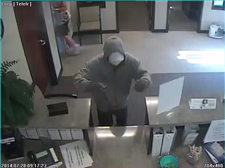 A photo of a suspect during a bank robbery this morning at the Toledo Co-Op Credit Union.
A Springfield Township credit union was robbed by a man in a surgical mask today, police said.
The robbery at Toledo Co-op Credit Union, 2422 S. Holland Sylvania Rd., was reported at about 9:30 a.m. Lucas County Sheriff's deputies are on scene. No injuries were reported, although the suspect was said to be armed with a silver handgun.
A further suspect description was not available.