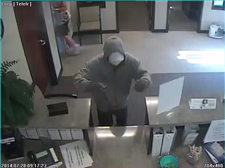 A photo of a suspect during a bank robbery this morning at the Toledo Co-Op Credit Union.
A Springfield Township credit union was robbed by a man in a surgical mask today, police said.
The robbery at Toledo Co-op Credit Union, 2422 S. Holland Sylvania Rd., was reported at about 9:30 a.m. Lucas County Sheriff's deputies are on scene. No injuries were reported, although the suspect was said to be armed with a silver handgun.
A further suspect description was not available.
Guidelines: Please keep your comments smart and civil. Don't attack other readers personally, and keep your language decent. Comments that violate these standards, or our privacy statement or visitor's agreement, are subject to being removed and commenters are subject to being banned. To post comments, you must be a registered user on toledoblade.com. To find out more, please visit the FAQ.