A helicopter lifts off from the scene of an accident on eastbound of the Ohio Turnpike just east of Swanton near Scott Road.
The Blade/Andy Morrison
Enlarge | Buy This Image
SWANTON — Seven people were injured when a tractor-trailer crashed into a minivan stopped on the Ohio Turnpike's eastbound shoulder near Swanton early Friday afternoon, causing a five-mile backup, authorities said.
A pregnant woman and a 3-year-old girl, who were among 10 people in the van, were flown from the crash scene to ProMedica Toledo Hospital. The others were taken there by ambulances, troopers at the Ohio Highway Patrol's Swanton post said. The truck driver, who was conscious and alert after the crash but had to be extricated from his vehicle's wreckage, was taken to Mercy St. Vincent Medical Center.
As of Friday evening, only the truck driver, Alfred Cruz, 55, of Portage, Ind., had been identified. The people in the minivan were members of an extended family from Minnesota, according to a highway patrol statement, and all were taken to the hospital even though only six were believed injured, two seriously.
Troopers described Mr. Cruz's injuries as life-threatening, although he was listed in fair condition Friday evening at Mercy St. Vincent.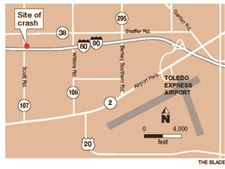 THE BLADE
Enlarge | Buy This Image
The crash occurred at 12:19 p.m. at the turnpike's Milepost 49, just east of the Scott Road overpass in Swanton Township. Troopers said Mr. Cruz lost control of his truck, which towed tandem trailers, and hit the minivan.
Both vehicles went off the roadway's south side into a ditch. The truck broke through a right-of-way fence into a field as it overturned, partially crushing its cab.
The turnpike's eastbound lanes were closed for about 40 minutes after the crash, and cleanup continued for several hours. Firefighters and emergency medical technicians from Swanton and Spencer townships responded. The crash remained under investigation Friday evening, with no charges immediately filed.
Guidelines: Please keep your comments smart and civil. Don't attack other readers personally, and keep your language decent. Comments that violate these standards, or our privacy statement or visitor's agreement, are subject to being removed and commenters are subject to being banned. To post comments, you must be a registered user on toledoblade.com. To find out more, please visit the FAQ.