Lucas County Sheriff defends $218,000 contract to repaint jail, calls it a 'capital need'
5/2/2015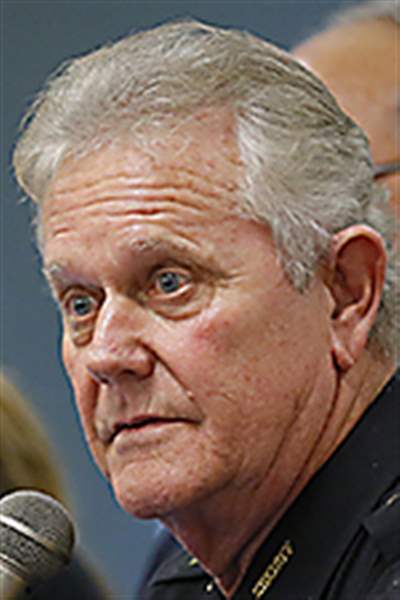 Tharp
THE BLADE
Buy This Image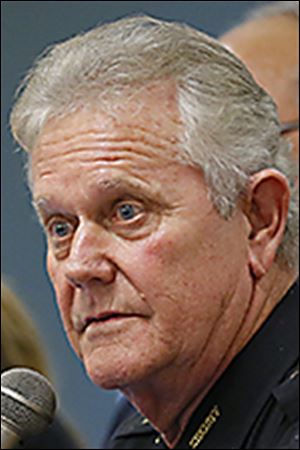 Tharp
Lucas County officials are defending a $218,000 contract to repaint the jail, despite plans to leave the deteriorating building for a potential new detention center.
The extensive project completed early this year included work on nearly 250 cells, five dormitories, and four day-rooms. Sheriff John Tharp said the fresh coat of paint was necessary upkeep for employees and inmates who spend long periods inside the building.
"That in itself can help encourage them to come to work and be happy while they work," the sheriff said. "If they're happy and feel comfortable at work, it makes life much, much easier for everybody."
American Floors and Interiors located at 305 Morris St. submitted the lowest bid with supplies and labor and beat the county's estimate of $270,000. Commissioners approved the contract Oct. 29, 2013.
Sheriff Tharp said the updates bring several added benefits, including eradicating graffiti on the walls that could incite violence.
Painters applied a light-blue "sleep baby sleep" color to the walls and dark-blue "ship's harbor" to the doors.
Replacement work for other parts of the jail, such as cracked tile, will not take place because of high costs. Inmates also clean the building to earn privileges such as additional television viewing, which saves the county money, Sheriff Tharp said.
"If it takes three years for us to get into the new facility, we have to be there for three years," Sheriff Tharp said of the jail.
Painters worked through the building from about January, 2014, to January. Completing the project required additional time because of clearing inmates and scraping and painting the area, allowing time to dry and returning inmates.
County Administrator Laura Lloyd-Jenkins toured the jail and described the project as a "capital need" for sufficient conditions. The jail had not been painted for 15 years, she said.
Paint chipped away and walls lacked protective coating, she said.
"It was not a good situation for inmates or employees," Ms. Lloyd-Jenkins said.
When commissioners approved the contract about a year and a half ago, plans for the new jail were less clear, she said.
The county commissioners approved a consultant firm Feb. 25 to assess the new jail project. A feasibility study in October projected total costs for the new center at about $142 million.
Gary Johnson, president of American Floors and Interiors, said he believes the updated building could improve morale.
"It's my hope that they're a little more inspired to come to work. It's not as depressing for them," Mr. Johnson said.
Mr. Johnson, who serves as a reserve deputy for the office, said in his disclosure form he donated "less than $150" to the sheriff's election campaign. Sheriff Tharp and Mr. Johnson said they do not see a conflict as commissioners approve projects.
Sheriff Tharp said there are 130 reserve deputies and he was unaware of Mr. Johnson's profession.
"I didn't even know it was him until way after he was doing the work," Sheriff Tharp said.
Contact Ryan Dunn at rdunn@theblade.com, or419-724-6103, or on Twitter @rdunnblade.