Fake signs, real tickets in Whitehouse
Untrue speed limit posted, enforced
4/9/2017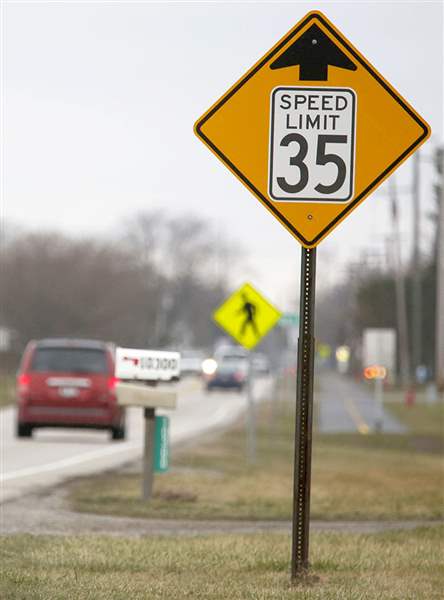 A sign in Whitehouse warns drivers that the speed limit slows to 35 in the village. Under state law, it doesn't.
THE BLADE
Buy This Image
A Whitehouse police officer pulled over Thomas Villagomez III at roughly midnight on Waterville Street on Dec. 19, 2015. Mr. Villagomez said he was heading to Kroger outside of town for some last minute Christmas shopping after watching the newest Star Wars movie, which had opened the day before.
The officer used radar to clock Mr. Villagomez at 46 mph — 11 over the posted limit.
Once Mr. Villagomez was stopped, the officer found less than 100 grams of marijuana in the car along with drug paraphernalia. Mr. Villagomez pleaded guilty to the misdemeanor the following Jan. 12, and his driver's license was suspended for six months.
The posted 35-mph limit, however, is fake and contrary to state law, which sets a 50-mph limit for that part of Waterville Street because it's part of State Rt. 64. The sign was installed with the intent to slow traffic as it approaches the village downtown.
Although Whitehouse Police Chief Mark McDonough said recently police only cite drivers who drive over 50 mph, a review of records by The Blade discovered that's not true.
From July, 2014, through March, 10 drivers were ticketed for exceeding the posted limit, but beneath the statutory 50 mph.
Nineteen others were cited for going between 51 and 55 mph in the posted 35 mph zone. Although over the statutory limit, those citations put points on their licenses improperly.
Police also cited 15 people for going faster than 56 mph, which would result in two license points regardless of whether the posted or statutory limits were applied.
Mr. Villagomez said he doesn't feel wronged by the encounter, because he did break the law by having marijuana in the car, and doesn't intend to contest the stop. But it bothers him that the stop should never have occurred.
"I don't know how that benefits me," said Mr. Villagomez, who represented himself through the proceedings and now lives in Columbus. "It's not like it's a felony or something."
But Jeremy Levy, a Toledo defense attorney, said police do not have the right to stop drivers based on the 35-mph signs placed by the village.
"The actual speed limit is the only thing that matters," Mr. Levy said. "They cannot legally stop someone based on a fraudulent sign. That whole case should be thrown out."
Mr. Villagomez could still drive to work, but could not get himself anywhere else.
"It was very inconvenient," he said. "I was on other people's time for six months."
Maumee Municipal Judge Gary Byers technically presided over all of these cases, although many ticketed individuals just paid the fine without ever appearing in court.
The judge said he was unaware of the discrepancy between the posted limit written on citations and Waterville Street's statutory speed limit.
"Quite frankly, if that's the case, that's disturbing," he said. "If someone wanted to contest, that's something they could use as a defense."
Those who paid their tickets could file to change their pleas based on that discrepancy, Judge Byers said, with cases then adjudicated individually. While the municipal court lacks authority over the village officials, he said, a Whitehouse resident or someone cited by village police could seek a writ of prohibition in Lucas County Common Pleas Court to block further enforcement.
Chief McDonough admitted last month that Waterville Street's posted limit didn't match that set by state law. During a meeting of village council's committee of the whole, councilmen discussed moving the westbound 35 mph sign farther east, from its current spot near Whitehouse Square Boulevard to near the Finzel Road roundabout.
"We can do it," Chief McDonough responded. "The problem is, we can't enforce it."
Council instructed the administration to find out what it would cost the village to conduct a speed study of that stretch of road, under which the village could seek state permission to post a speed limit different from the statutory norm.
Chief McDonough previously said his officers only ticket drivers exceeding 50 mph on Waterville between Whitehouse Square and Gilead Street. Neither he nor Phil Davis, the village law director, responded to repeated requests for further comment.
Whitehouse Mayor Donald Atkinson said village lawyers were looking at what, if anything, needed to be done to rectify the situation.
"We'll do the right thing once we find out what the right thing to do is," he said.
Village Councilman Bill May said he would not make a firm statement until he had seen the records and heard from Chief McDonough, but the matter was worth further investigation.
"We'd have to take a hard look at what we did all those years ago," he said.
Whitehouse posted 35-mph signs in 1987, said Steven Pilcher, the village's public service director. While correspondence between the city and ODOT in 1993 shows the village was notified its limit was beneath the statutory speed limit, village council opted in 1995 to keep the signs.
Village officials have argued the signs help slow traffic approaching the village center.
Village Councilman Rebecca Conklin Kleiboemer said she wants to work with police on how to prevent improper citations in the future.
"I expect that our departments are consistent and clear, and that residents are fully aware of what the rules are," she said. "It should not be confusing for our officers, either."
She also believes the village should reach out to individuals cited based on an incorrect speed limit.
"The onus should be on Whitehouse to notify those people," she said. "This is why we don't do things like this."
Contact Zack Lemon at: zlemon@theblade.com, 419-724-6282, or on Twitter @zack_lemon.