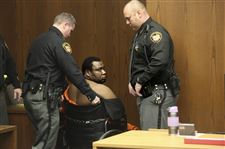 Jamaine Hill, 38, who is accused of shooting Detective Jason Picking in the face during a search warrant in West Toledo, appears for his arraignment in Toledo Municipal Court.
THE BLADE/AMY E. VOIGT
Enlarge | Buy This Image
The Toledo police detective shot in the face during the search of a West Toledo home is recovering from his initial surgery.
Detective Jason Picking completed his first procedure at University Hospital in Ann Arbor, Mich over the weekend. It was more challenging than expected, and will likely be the first of multiple surgeries, Toledo Police Department spokesman Sgt. Kevan Toney said.
Detective Picking, 36, is unable yet to speak. He is instead using a whiteboard to communicate, Sergeant Toney said.
The department is a large family, and its officers look out for each other, the spokesman said. They have regularly visited Detective Picking.
"If someone else was in this situation, Jason would be one of the first to help out and step up," he said.
The detective is an excellent person and well-respected member of the department, he said.
"Everyone wants to do something to help him out," Sergeant Toney said.
Detective Picking was assisting with a drug-related search warrant about 2:08 a.m. Thursday in the 4100 block of Caroline Avenue when a shooter inside opened fire. A round hit Detective Picking near his mouth, shattering his jaw and lodging in his neck.
Jamaine Hill, 38, is charged with three counts of felonious assault on a police officer. Investigators said it was Mr. Hill who fired through his front door. Mr. Hill remained in jail in lieu of $3 million bond as of Monday.
Search warrants released from the case show police seized a 9mm handgun, shell casings, ammunition, and two cellphones from the residence.
"[Mr.] Hill was encountered in the living room, on the couch, covered by a blanket and was found to have the semi-automatic pistol on his lap as he was taken into custody," according to the affidavit.
Mr. Hill's family members said the man thought the police raid was a break-in. Police officials said officers declared themselves before entering the house.
There is no body-camera footage from the search. Officers and detectives in special operations are not assigned the devices, Sergeant Toney said.
Toledo Police Federal Credit Union continues collecting funds to help Detective Picking with his recovery expenses. Those interested in donating can visit tpolcu.com. Sergeant Toney declined to say how much money was raised as of Monday.
The Battle of the Badges hockey match at 3:30 p.m. Dec. 2 at the Huntington Center will also raise money for his family. Attendees who wish to give should identify themselves as "Team TPD" when purchasing a ticket to the game, which precedes the Walleye game, Sergeant Toney said.
Contact Ryan Dunn at rdunn@theblade.com, 419-724-6095, or on Twitter @RDunnBlade.
Guidelines: Please keep your comments smart and civil. Don't attack other readers personally, and keep your language decent. Comments that violate these standards, or our privacy statement or visitor's agreement, are subject to being removed and commenters are subject to being banned. To post comments, you must be a registered user on toledoblade.com. To find out more, please visit the FAQ.