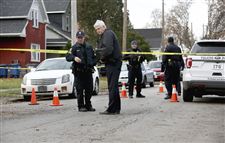 Toledo police investigate a shooting in the 1400 block of Vance Street Tuesday December 5, 2017 in Toledo.
THE BLADE/DAVE ZAPOTOSKY
Enlarge | Buy This Image
A city man's shooting death Tuesday has been formally ruled a homicide.
Tyrone Armstrong, 18, died from two gunshot wounds to the back, the Lucas County Coroner's Office ruled Wednesday after performing an autopsy.
Mr. Armstrong and Chantel Flee, 25, were both shot shortly after 10 a.m. Tuesday while they sat in a car in the 1500 block of Vance Street near Junction Avenue, according to Toledo police.
Mr. Armstrong was pronounced dead at 12:18 p.m. at Mercy Health St. Vincent Medical Center, Deputy Coroner Diane Scala-Barnett said. Ms. Flee is expected to survive.
No arrests have been made. Anyone with information should call the Crime Stopper program at 419-255-1111. Callers may remain anonymous and could be eligible for a reward.
Guidelines: Please keep your comments smart and civil. Don't attack other readers personally, and keep your language decent. Comments that violate these standards, or our privacy statement or visitor's agreement, are subject to being removed and commenters are subject to being banned. To post comments, you must be a registered user on toledoblade.com. To find out more, please visit the FAQ.