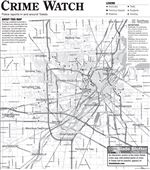 THE BLADE
Enlarge | Buy This Image
View The Blade's interactive crime map
Bedford Township
Burglary
Jack Campbell, generator from garage in 6300 block of South Telegraph.
Theft
Bonnie Warman, action figure set from residence in 7400 block of Crosscreeks.
Berkey
Burglary
Eric Langenderfer, nothing reported stolen from residence in 14000 block of Brint.
Erie Township
Thefts
Keith Never, boat from vehicle trailer in 2400 block of Summit.
LuAnn Bogart, wallet with contents from store in 1800 block of Benore.
Harding Township
Burglary
Sandra Stinson, generator from garage in 13600 block of Angola.
Holland
Theft
Frederick Warton, vehicle from 7100 block of Dunn, later recovered with crash damage.
Donna Anderson, cash, bank card, and driver's license from vehicle in 1300 block of South McCord.
Monclova Township
Theft
Gary Resnick, jewelry from residence in 3100 block of Deep Water.
Antonio Williams, cash from nursing home in 3600 block of Butz.
Dick's Auto Sales, vehicle from business in 10200 block of Airport.
Oregon
Thefts
Jerald Tiernan, DVD from 900 block of Isaac Streets.
Hampton Inn, cash from hotel in 2900 block of Navarre.
Thomas Umbs, phone bill from residence in 300 block of Van Buren.
Elizabeth Yung Bangert, wallet with contents from hospital in 2800 block of Bay Park.
Elizabeth Stewart, loaded firearm from vehicle in 3300 block of Stafford.
Michael Lewczynski, medicines from assisted-living facility in 2800 block of Munding.
Ricky Montgomery, tabloid computer from residence in 5700 block of Pickle.
Jerusalem Township
Theft
Mandy Lenning, cash from residence in 7200 block of Seaman.
Springfield Township
Thefts
Kory Petiniot, video game system from residence in 7400 block of Annin.
Marshall McClurg and McClurg Environmental Inc, backpack blowers from business in 7400 block of Hill.
Elizabeth Geist, purse with contents from store in 1400 block of South Holland-Sylvania.
Debra Siemientkowski, cash from residence in 800 block of South Crissey.
Desera Rose-Brown, vehicle from 6800 block of Oakfield.
Adam Nachman, stereo system from vehicle in 7300 block of Nightingale.
Hawthorne Suites, television from hotel in 6100 block of Trust.
Sylvania
Thefts
Belinda Gregory, cash and medicines from residence in 5400 block of Silvertown.
Claire Kirby, motorcycle from 5600 block of West Alexis.
Zachary Poupard, radio from vehicle in 5300 block ofs West Alexis.
Washington Township
Burglary
Alexis Roberts, televisions and tablet computer from residence in unit block of Cypress.
Guidelines: Please keep your comments smart and civil. Don't attack other readers personally, and keep your language decent. Comments that violate these standards, or our privacy statement or visitor's agreement, are subject to being removed and commenters are subject to being banned. To post comments, you must be a registered user on toledoblade.com. To find out more, please visit the FAQ.