Two dogs are dead and a family lost their home after a fire broke out at an East Toledo house early Thursday.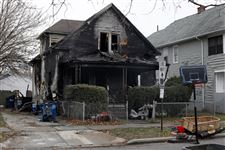 A fire broke out about 1 a.m. Thursday, December 21, 2017, at 705 Parker Avenue in East Toledo. Melissa Lesage, 32, and her fiance Jared Perkins, 31, shared the home with their eight children and four dogs.
THE BLADE/KATIE RAUSCH
Enlarge | Buy This Image
Crews responded shortly after 1 a.m. to a home in the 700 block of Parker Avenue, according to Toledo Fire Department spokesman Pvt. Sterling Rahe.
Heavy flames were reported from the front door and first-floor windows before crews arrived, Private Rahe said.
Neighbors initially told firefighters five children might be trapped inside, but crews on scene located them at a residence across the street, the spokesman said. The family includes couple Jared Perkins and Melissa Lesage.
There were no injuries; however, the family said two of their dogs died.
Ms. Lesage, 32, has five children who live with her, and her fiance has three children who stay with them on the weekends, she said.
The house, which Lucas County land records list as owned by Virginia and James Todd and valued at $28,500, was believed to be a total loss, and heat damage was reported to neighboring houses. The family had no renter's insurance.
The couple was assisted afterward by Helping Hands of St. Louis in East Toledo, where Ms. Lesage has volunteered for three years, and the Toledo chapter of the American Red Cross.
The fire's cause remained under investigation later Thursday.
Contact Allison Reamer at areamer@theblade.com, 419-724-6506, or on Twitter @AllisonRBlade.
Guidelines: Please keep your comments smart and civil. Don't attack other readers personally, and keep your language decent. Comments that violate these standards, or our privacy statement or visitor's agreement, are subject to being removed and commenters are subject to being banned. To post comments, you must be a registered user on toledoblade.com. To find out more, please visit the FAQ.