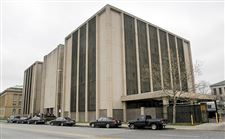 Exterior view of the Lucas County jail.
Blade Enlarge
A program to ensure Lucas County jail inmates register for Medicaid is strengthening as the sheriff's office designates coordinators.
Calling it a "simple step" the office should take, Sheriff John Tharp said he is concerned by the revolving door of inmates after incarceration.
"If they don't have avenues to get assistance for their health, for addiction, for whatever medical issues they may have, they may end up back in emergency rooms," Sheriff Tharp said. "They may end being arrested again. They may end up homeless under bridges, out in the woods, trying to stay warm in those areas."
The Lucas County Commissioners recently approved a memorandum of understanding between Lucas County Job and Family Services and the sheriff's office. It certifies a jail liaison who identifies inmates within 30 days of release and helps with applications. There is no cost as a result.
Applications for services primarily include Medicaid. The agreement is effective from October, 2017 through September.
Sheriff Tharp said several people will be named as jail liaisons.
Years ago, an eligibility worker stationed inside the jail met inmates before their release. Those meetings included setting up temporary food assistance and medical needs, said Michelle Niedermier, director of Job and Family Services.
Officials found it a better use of resources to withdraw the full-time jail presence so that worker could cover general caseload as well. The goal is to preserve the connection, however.
"They're part of that bigger mix, and then their focus is when something comes through the email or phone line," Ms. Niedermier said.
Ms. Niedermier said it is possible to maintain someone in the jail a few times per month if officials decide that's a better route.
Inmates leaving incarceration have a range of matters to resolve. One of the last may be scheduling a Job and Family Services meeting.
"We want to make sure we take care of that before they go, so that they are as stable as possible before their exit," Ms. Niedermier said.
Commissioner Pete Gerken described it as a complete program with Medicaid assistance that helps break the cycle of incarceration. It targets their medical needs, he said.
Robia Jones-Barringer, acting director of inmate services, said linking inmates with service while still incarcerated helps children as well.
"When families have healthcare insurance, they have a better quality of life," Ms. Jones-Barringer said.
Contact Ryan Dunn at rdunn@theblade.com, 419-724-6095, or on Twitter @RDunnBlade.
Guidelines: Please keep your comments smart and civil. Don't attack other readers personally, and keep your language decent. Comments that violate these standards, or our privacy statement or visitor's agreement, are subject to being removed and commenters are subject to being banned. To post comments, you must be a registered user on toledoblade.com. To find out more, please visit the FAQ.