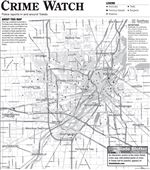 THE BLADE
Enlarge | Buy This Image
View The Blade's interactive crime map
Bedford Township
Theft
Amanda Amross, cell phone from residence in 6300 block of Whiteford Center.
Lake Township
Burglary
Ric Stafford, Justin Sylver, and Marquevious Wilson, cash, television, video-game systems with games, laptop computer, clothes, and pairs of shoes from residence in 6500 block of Clock Tower.
Theft
Skyworks LLC, batteries from business in 26500 block of Baker.
Northwood
Burglary
Bridgepointe Inn & Suites, nothing reported stolen from hotel in 2600 block of Lauren.
Theft
Cynthia Wolf, cash and key from vehicle in 2500 block of Eden East.
Oregon
Burglaries
Krishanna Phillips, cash from residence in 3100 block of Navarre.
William Hartbarger, unspecified items from residence in 2600 block of Arthur.
Thefts
Joann Beard, cash from 900 bloc of Isaac Streets.
William Nowak, unspecified items from vehicle in 1700 block of South Wheeling.
Rolean Graham, clothes and flowers from residence in 900 block of Isaac Streets.
Perrysburg
Thefts
Diane Miller, license plate from vehicle in 1000 block of Eastbrook.
Michael Winter, concrete grinder from trailer in 1000 block of Eastbrook.
Joseph O'Neil, unspecified items from work van in 300 block of Southwood.
Perrysburg Township
Thefts
Jeffrey Noble, Jonas Miller, and Michael Marr, tools from construction site in 10800 block of Bay Trace.
Michael Marr, tools from vehicle in 10800 block of Sun Trace.
William Zimmer, cell phone from residence in 7300 block of Starbright.
Providence Township
Burglaries
Jason and Shannon Peters, all-terrain vehicle from garage in 11400 block of Manore.
Nicholas Jeffers, nothing reported stolen from barn in 12200 block of Grand Rapids.
Gloria Hotz, nothing reported stolen from barn in 11900 block of Manore.
Theft
Pamela Talmage, garage-door opener and an autographed 1962 picture of actress Lucille Ball and musician Desi Arnaz from vehicle in 1100 block of Manore.
Springfield Township
Felonious assault
Amanda Maulsby, assaulted at residence in unit block of South King.
Robbery
Devante Lawson, assaulted and threatened with handgun during robbery attempt at parking lot in 6500 block of Angola.
Burglary
Tresha Keough, headphones and video-game system with games from residence in 6200 block of Wexford.
Thefts
Glen Pepper, vehicle from 9400 block of Angola.
Jill Scott, pair of boots from residence in 6200 block of Gar- den.
Halle Floss, car keys and wallet with contents from hotel in 6100 block of Trust.
Swanton Township
Burglary
Kevin King, nothing reported stolen from residence in 2800 block of North Berkey Southern
Thefts
Scott Stafford, cash from vehicle in 10400 block of Airport.
Megan Shaver, wallet with contents from 10400 block of Airport.
Sylvania
Thefts
Elijah Quinn, cash and smart phone from vehicle in 7000 block of Sylvania.
ProMedica Health and Wellness Center, eyeglasses from doctor's office in 5700 block of Monroe.
Judy Shirkey, heart monitor from porch in 660 block of Maplewood.
Sylvania Township
Thefts
Henry Gurtzweiler Inc., tools from vehicle in 6700 block of Shieldwood.
Robert Delrue, cash, garage-door opener, and keys from vehicle in 8200 block of Elkhorn.
Hyunjin Chung, cash, jewelry, gift cards, and purses from residence in 5700 block of Breeze Bay.
Katelynn Taylor, vehicle from 4300 block of North Holland-Sylvania.
University of Toledo
Theft
Mary Bozsik, hand clutch with contents from locker at athletic facility in 2800 block of East Rocket.
Washington Township
Thefts
Raintree Village Mobile Park, cash, credit cards, and keys from office in 900 block of East Alexis.
Roshell Butler, vehicle from 6100 block of North Summit.
Guidelines: Please keep your comments smart and civil. Don't attack other readers personally, and keep your language decent. Comments that violate these standards, or our privacy statement or visitor's agreement, are subject to being removed and commenters are subject to being banned. To post comments, you must be a registered user on toledoblade.com. To find out more, please visit the FAQ.