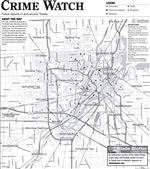 THE BLADE
Enlarge | Buy This Image
View The Blade's interactive crime map
Bedford Township
Burglary
Alvin Billau, power tools from garage in 11200 block of Jackman.
Thefts
Todd Whipple, cash and gift card from vehicle in 6600 block of Sandywell.
Ryan Nearhood, smartphone and case of beer from 7400 block of Savanna.
Susan Kerekes, medicine from residence in 2300 block of Oakdale.
Mercy Health Lambertville Urgent Care, cash from office in 7500 block of Secor.
Justen Scott, wallet with contents from vehicle in 9000 block of Clover.
Erie Township
Felonious assault
Mikhale Lavoie, assaulted at residence in 2000 block of Lakeside.
Burglary
Cheryl Hoffman, nothing reported stolen from shed in 7300 block of Suder.
Jerusalem Township
Theft
Ashley Kiessling, tool set from garage in 11100 block of Wallace.
Maumee
Burglary
Benjamin and Susan Heywood, pairs of brand-name sunglasses from vehicles at garage in 300 block of East Broadway.
Thefts
Charles Klinger, camera, tripod, backpack, clothes, and rain gear from vehicle in 1300 block of Arrowhead.
Victoria Binegar, bicycle from driveway in 1300 block of Michigan.
Danielle Lawson, bicycle from residence in 1200 block of Kirk.
Monclova Township
Burglary
Jason Gwin, nothing reported stolen from residence in 10700 block of Reed.
Thefts
Arnold Vaughn, cash from medical care facility in 3200 block of Manley.
Tony Boyd, cash from medical care facility in 3200 block of Manley.
Northwood
Theft
BP, marquees from gas station in 3800 block Woodville.
Oregon
Burglary
James Moroni, unspecified items from residence in 1300 block of South Coy.
Theft
Sommer Vriezelaar, bicycle from property in 3000 block of Springwood.
Ottawa Hills
Burglary
Amy Fleming, copper pipes from residence in 3300 block of Darlington.
Perrysburg
Thefts
Kevin Eakes, vehicle trailer from 25500 block of Fort Meigs.
Brylan Parente-Romain, unspecified items from residence in 26700 block of Lakevue.
Spencer Township
Theft
Amber Stone, cash from residence in 9700 block of Old State Line.
Springfield Township
Burglary
Tyler Wittel, soundbar from residence in 2300 block of Garden Creek.
Thefts
Steven Trawford, smart phone, computers, and wallet with contents from hotel in 1200 block of East Mall.
Econo Lodge, television from hotel in 1200 block of East Mall.
Swanton Township
Thefts
Mary Karnes, smartphone from campground in 12000 block of Waterville-Swanton.
Bethann Hightower, cash, security bonds, and personal documents from 11600 block of Shaffer.
Sylvania Township
Burglary
John Grosjean, lawn maintenance equipment from shed in 5000 block of Courville.
Thefts
EAN Holdings LLC, vehicle from auto sales lot in 7400 block of West Central.
Shirley Green, cash from residential facility in 2500 block of King.
Taylor Kia, batteries from vehicles in auto sales lots in 6300 West Central.
Cynthia Mohr, lawnmower from property in 5000 block of Silica.
Richard Graham, duffel bag, knee braces, knee wraps, and cigarettes from vehicle in 3200 block of Elmont.
University of Toledo
Burglary
Ansley Abrams-Frederick and University of Toledo, burglary reported at non-residential facility in 2800 block of West Bancroft, with no further details released.
Thefts
Aman Dhakal, driver's license and bank card from wallet at building in 1600 block of North Westwood.
Connor Fox,, refrigerator from dorm hallway in 2900 bloick of South Glass Bowl, later recovered.
Guidelines: Please keep your comments smart and civil. Don't attack other readers personally, and keep your language decent. Comments that violate these standards, or our privacy statement or visitor's agreement, are subject to being removed and commenters are subject to being banned. To post comments, you must be a registered user on toledoblade.com. To find out more, please visit the FAQ.