Holland man accused of stealing car, crashing into deputy's cruiser
5/16/2018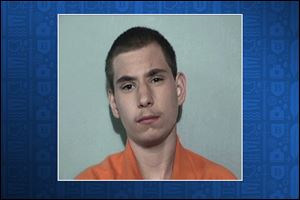 Kruthaup
A Holland man is accused of stealing a man's vehicle, fleeing from police, and crashing into a Lucas County Sheriff's deputy's cruiser Tuesday.
Jakob Kruthaup, 18, of Morton Street, is charged with aggravated vehicular assault, a fourth-degree felony, failure to comply with the order or signal of a police officer, a third-degree felony, and grand theft, a fourth-degree felony.
Mr. Kruthaup is accused of stealing a pick-up truck from Frederick M. Glynn, 65, of Holland. Mr. Glynn realized his vehicle was gone at approximately 3:40 a.m. Tuesday, and he notified the sheriff's office, according to a police report.
A Lucas County Sheriff's sergeant spotted the vehicle in the Royal Village Mobile Home park off Dorr Street and the officer attempted to make contact with the people inside the car, according to the report. The vehicle took off, heading east on Nebraska Avenue toward McCord Road.
Lucas County Sheriff's Deputy Craig Barth saw the vehicle at Nebraska Avenue and McCord Road, the report said. The driver, later identified as Mr. Kruthaup, fled from Deputy Barth at a high rate of speed, according to an affidavit filed in Sylvania Municipal Court.
Mr. Kruthaup lost control of the vehicle and struck Deputy Barth's cruiser, causing extensive damage, court records show.
After the crash, Mr. Kruthaup and two passengers got out of the vehicle and fled to a nearby neighborhood and wooded area, according to the sheriff's office.
A young teen from the car was located and detained, deputies said. The juvenile provided the names of the driver and the other passenger.
Deputy Barth was taken to ProMedica Flower Hospital for evaluation and treatment, according to the sheriff's office. On Wednesday, Deputy Barth was out of the hospital.
Mr. Kruthaup was arrested by deputies Tuesday and he was booked in the Lucas County jail.
He appeared in Sylvania Municipal Court Wednesday, and he was released on his own recognizance. He is next scheduled to be in court May 23.
Contact Allison Dunn at adunn@theblade.com, 419-724-6506 or on Twitter @AllisonDBlade.