This story was updated at 10:35 a.m. to include information from Terrell Wynn's court appearance.
A judge on Monday set bond at $1 million for a Michigan man accused of date-raping two women in Toledo.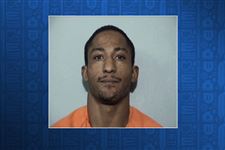 Wynn
Terrell J. Wynn, 30, of Westland, Mich., is charged with two counts of rape, both first-degree felonies.
On May 30, Mr. Wynn picked up a woman from her home for a date, but instead drove to the 300 block of Phillips Avenue in North Toledo. There, he forced her to perform oral sex and to have vaginal intercourse with him, according to affidavits filed in Toledo Municipal Court.
A similar incident happened June 18 in West Toledo.
Mr. Wynn picked up another woman from her home, but instead of going out, he drove to the 5200 block of Tractor Road, according to the affidavit. There, he forced her to have vaginal intercourse, according to court records.
Both charges were filed June 19 in Toledo Municipal Court.
Toledo police arrested Mr. Wynn on Friday and booked him in the Lucas County jail.
His attorney Joseph Westmeyer declined to comment.
Contact Allison Dunn at adunn@theblade.com, 419-724-6506 or on Twitter @AllisonDBlade.
Guidelines: Please keep your comments smart and civil. Don't attack other readers personally, and keep your language decent. Comments that violate these standards, or our privacy statement or visitor's agreement, are subject to being removed and commenters are subject to being banned. To post comments, you must be a registered user on toledoblade.com. To find out more, please visit the FAQ.