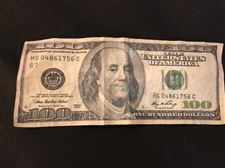 Dundee Police are investigating a counterfeit money case.
PHOTO PROVIDED Enlarge
DUNDEE, Mich., — A McDonald's patron tried using counterfeit money to buy food Friday, Dundee police said.
The customer presented a fake $100 bill. After the manager said change would be made in the back office, the customer fled.
Anyone with information or businesses that have had a similar situation are asked to contact Officer Steve Schmidt at 734-529-3430, Ext. 1810, or at sschmidt@villageofdundee.net.
Guidelines: Please keep your comments smart and civil. Don't attack other readers personally, and keep your language decent. Comments that violate these standards, or our privacy statement or visitor's agreement, are subject to being removed and commenters are subject to being banned. To post comments, you must be a registered user on toledoblade.com. To find out more, please visit the FAQ.