Four arrested in Maumee prostitution sting sentenced to probation
8/31/2018
Four Toledo-area women who were arrested and charged last week as part of a prostitution sting in Maumee were sentenced to probation.
Kelly Adams, 42, and Jameire Purley, 21, both of Toledo, and Danielle Whetro, 33, of Walbridge, pleaded no contest in Maumee Municipal Court to attempting to commit the offense of soliciting, a fourth-degree misdemeanor, according to online court records. Deonnia Young, 25, of Toledo, pleaded guilty in the same court to the same charge.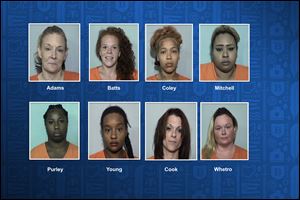 All four were sentenced to suspended jail terms and probation, according to online records.
Four other Toledo women, who were arrested in the same operation, have pending municipal court cases. They are charged each with soliciting, a third-degree misdemeanor.
Areanna Coley, 22, is scheduled to appear for arraignment Sept. 13, according to online records. Jennifer Cook, 36, pleaded not guilty to soliciting and was released on a recognizance bond. Warrants were issued for both Charity Batts, 24, and Amaya Mitchell, 28, who each failed to appear in court.
The sting was conducted in conjunction with the police department and the FBI Northern Ohio Crimes Against Children Task Force, Maumee officials said. The women were reportedly advertising through social media and law enforcement made the connections with them.
The goal of the task force is to identify victims of human trafficking, said Maumee Police Chief Jim MacDonald. The case was the FBI's operation, and Maumee police gave their support to the FBI because the sting occurred within Maumee's jurisdiction.
"We were just a partner for that one night," he said.
Special Agent Vicki Anderson, with the FBI Cleveland division, said the women arrested in the operation are all adults.
"We were looking for underage victims," she said. "It doesn't appear that these adult women were being forced or coerced."
Contact Kate Snyder at ksnyder@theblade.com, 419-724-6282 or on Twitter @KL_Snyder