Suspected shooter, others charged after fight outside Scott
9/12/2018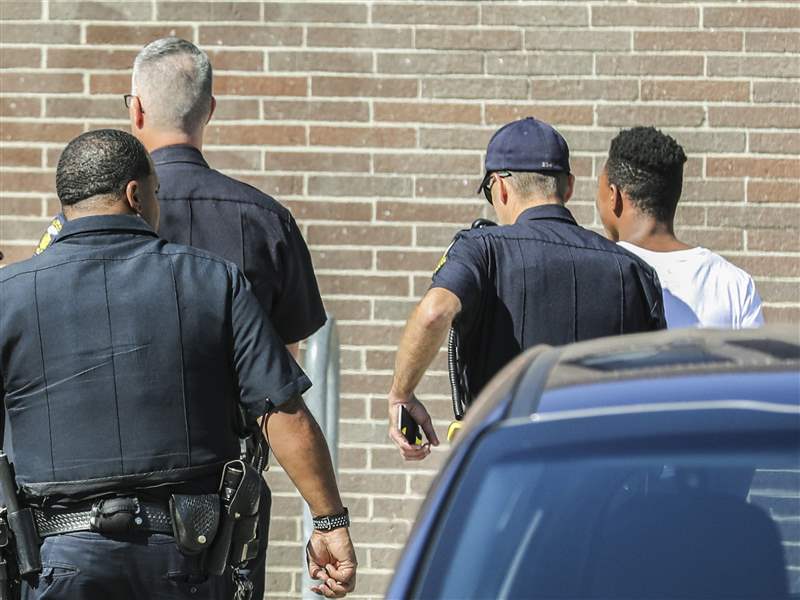 Police take several young men into custody following a shooting incident on Collingwood Boulevard on Tuesday at Scott High School in Toledo.
THE BLADE/JEREMY WADSWORTH
Buy This Image
A 16-year-old is facing a felony charge after police say he fired a gun outside of Scott High School during a large fight on school grounds.
The teen is charged with improper discharge of a firearm in a school safety zone, a second-degree felony, said Lt. Kevan Toney, spokesman for the Toledo Police Department.
Lori Olender, deputy chief of the Lucas County prosecutor's juvenile division, said the teen is not a Scott High School student.
Four other juveniles are charged with misdemeanor riot charges related to the fight that occurred before the shooting, Ms. Olender said. She did not know their ages or where they went to school. The fight, she said, is believed to be gang-related.
A fight broke out among several teens inside the high school at 1:36 p.m. Tuesday, according to Toledo police records. At about 2:50 p.m., just after dismissal, another fight occurred in front of the school on Collingwood Boulevard at Machen Street. A shot was fired, but police found no victim.
A school resource officer pursued the shooter on foot, Lieutenant Toney said. Students who were outside of the school were ushered back into the building when the shot was fired.
The shooter fled in a gray Pontiac Grand Am, which was later located and found empty, police records show.
Patty Mazur, spokesman for Toledo Public Schools, said extra security was posted Wednesday at Scott High School. She said district administrators take additional steps to ensure student safety any time an incident happens.
"We do take precautionary measures," she said.
Contact Kate Snyder at ksnyder@theblade.com, 419-724-6282 or on Twitter @KL_Snyder