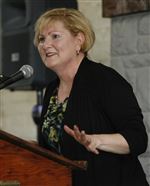 Rep. Teresa Fedor
THE BLADE/JETTA FRASER
Enlarge | Buy This Image
A state representative announced Friday she would move to a new residence to avoid a run against a fellow Democrat under newly drawn state House districts.
Rep. Teresa Fedor (D., Toledo) said in a press release she planned to move from the current 47th House District into the new 45th House District after a Republican-controlled redistricting process put her current home in the same district as the House's second-highest ranking Democrat, Rep. Matt Szollosi of Oregon.
"I am happy to live in the new 45th House District," Ms. Fedor said, noting in the release she has represented residents in the new district during her past stints as a state senator. "Republicans are trying to play games with reapportionment maps by drawing Rep. Szollosi and I into one district, but that does not bother me."
Ms. Fedor did not return calls seeking additional comment.
Assistant Minority Leader and Reresentative Szollosi said Ms. Fedor's decision to move was a result of conversations they have had since the GOP-controlled Apportionment Board adopted new Ohio House and Senate district maps in September.
"Despite Republican attempts to pit us against one another, Representative Fedor and I worked together to find an agreeable solution," Mr. Szollosi said.
He said Ms. Fedor would relocate from her current South Toledo home to a new residence in East Toledo. Both are in her current district, but the East Toledo residence will be in the new 45th district, he said.
The Ohio Apportionment Board redraws state legislative lines once every decade based on new census data. Republicans drew both Ms. Fedor and Mr. Szollosi into a newly drawn 46th District, while creating a new 45th District seat with no Democratic incumbent.
Mr. Szollosi's redrawn 46th District will stretch from the eastern Lucas County suburbs through parts of East, South, and West Toledo to pick up Maumee, Holland, and Springfield Township to the west. The new 45th District, into which Ms. Fedor is moving, will include portions of North, East, and West Toledo; Washington Township, and one Sylvania Township precinct surrounded by the city.
Both districts will lean Democratic.
Contact Tony Cook at: acook@theblade.com or 419-724-6065.
Guidelines: Please keep your comments smart and civil. Don't attack other readers personally, and keep your language decent. Comments that violate these standards, or our privacy statement or visitor's agreement, are subject to being removed and commenters are subject to being banned. To post comments, you must be a registered user on toledoblade.com. To find out more, please visit the FAQ.