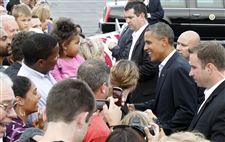 President Obama greets members of the crowd invited to welcome him at Toledo Express Airport. Mr. Obama, who landed at 7:12 p.m. Sunday, is to speak today at Scott High School in Toledo's Old West End.
The Blade/Amy E. Voigt
Enlarge | Buy This Image
President Obama returned to Toledo on Sunday night and will address supporters for Labor Day today in the city in one of his final stops before the Democratic National Convention begins in Charlotte.
Mr. Obama greeted a group of about 75 invited guests after Air Force One arrived at 7:12 p.m. at Toledo Express Airport, hugging some of them after descending at a trot from the aircraft.
Smiling broadly and dressed casually in an open-collared shirt and sport jacket, the President first greeted a line of about a dozen local dignitaries, including U.S. Rep. Marcy Kaptur (D., Toledo), Lucas County Auditor Anita Lopez, Pete Gerken, president of the board of county commissioners, and Toledo Council President Joe McNamara.
Among those greeting the President's plane was Paulette Dewey, a retired Toledo Public Schools English teacher who said she's a neighborhood team leader in Ward 16 in South Toledo.
PHOTO GALLERY: President Obama arrives in Toledo
RELATED ARTICLE: Area delegates ready for spotlight at Democratic convention
"I got a hug! I got a hug!" Ms. Dewey crowed. She said she told him, 'We're working for your re-election.' He said, 'Thank you very much; keep up the good work.' "
She said she supports Mr. Obama because of the Affordable Care Act.
"It's abysmal we're a first-world country and have third-world health care for maybe half of the population," Ms. Dewey said.
President Obama left the airport in his presidential limousine, a black Cadillac, in a motorcade on the Ohio Turnpike to a Toledo hotel for the night.
Mr. Obama is to address supporters at Scott High School today, and nearly 3,000 tickets have been distributed. The visit is the President's second to the Toledo area in two months.
The President arrived Sunday night from Boulder, Colo. His appearance at Scott High School is part of a swing-state tour of Ohio, Iowa, Colorado, and Virginia on his way to Charlotte, where he is to accept the nomination for a second term on Thursday.
Miss Kaptur and area United Auto Workers Director Ken Lortz held a news conference Sunday afternoon to welcome Mr. Obama to Toledo and thank him for the auto industry bailout of 2009.
"The President ignored pundits and politics and stepped up to save the American auto industry. We are seeing the benefits of that decision every day," Miss Kaptur said.
Mr. Lortz, who heads UAW locals in Ohio and Indiana from an office in Maumee, attacked Republican nominee Mitt Romney as someone who opposed the $80 billion, taxpayer-funded auto industry rescue.
Priscilla Martinez, a field organizer with the Obama campaign, organizes the crowd in front of Scott High School hours before Mr. Obama is set to speak.
THE BLADE/AMY E. VOIGT
Enlarge | Buy This Image
'Pretty easy' decision
"Do we want a president who rescued the auto industry and bet on American workers or do we want a president who would let Detroit go bankrupt? I think the decision is a pretty easy one," Mr. Lortz said.
Of those in the line of dignitaries at the airport, Miss Kaptur and Mr. McNamara said they promised to help Mr. Obama win in Ohio.
"I said, 'Welcome to Toledo, and I want to thank you for releasing the White House beer recipe because I'm a home brewer,' " Mr. McNamara said.
He said the President expressed interest in their shared hobby. He also said Mr. Obama told the group, "We need to keep fighting in Ohio because the Republicans can't win without winning Ohio."
Miss Kaptur said, "I welcomed him back to this region of Ohio which will provide the margin of victory for his re-election as President. He smiled and gave me a big hug."
Lucas County Republican Party Chairman Jon Stainbrook said he and volunteers waved placards for Mr. Romney and GOP running mate Paul Ryan at Heatherdowns Boulevard and Byrne Road.
He said the goal was to show Lucas County "is not just for Democrats" and "let him know there's people who support Romney-Ryan here."
"Let's face it, this President is a failure," Mr. Stainbrook said, citing a city unemployment rate of 9.1 percent.
Chris Maloney, spokesman for the Romney campaign, said, "Barack Obama's stop in Toledo will likely incorporate much of the same platitudes, debunked attacks, and cherry-picked data Ohioans have come to expect from his frequent visits."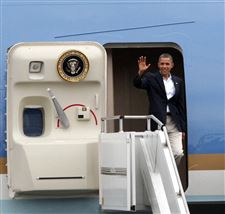 President Obama waves from the door of Air Force One as he lands Sunday at Toledo Express Airport.
The Blade/Amy E. Voigt
Enlarge | Buy This Image
Most recent visit
The President was in the Toledo area most recently on July 5. Stops then included the Wolcott House in Maumee, Sandusky, Oak Harbor, and Ottawa County.
Union members and others are expected to march in the 9 a.m. Labor Day parade in downtown Toledo today. National UAW President Bob King will be participating in the parade.
Lucas County is friendly territory for Mr. Obama. He carried the county with 66 percent of the vote in 2008, the third-highest county percentage in Ohio, after Cuyahoga and Athens counties.
One of the greeters at the airport was Will Lucas of Toledo, with his wife, Angela, and their 2-year-old daughter, Sophie. The owner of an Internet-related business, Mr. Lucas is co-chairman of the Obama campaign's small business committee for Ohio.
Mr. Lucas said the Republican Party's frequent repetition of the President's words at a campaign rally in July, "You didn't build that," in reference to business owners, was taken out of context.
"I think he's very good with small business," Mr. Lucas said.
OBJECT'We support him'
Jennifer Couture of Toledo came to the airport near Swanton without a ticket and had to watch the President's arrival from outside the greeting area.
"I want to at least show we support him," said Ms. Couture, the mother of three children she brought with her, Brooklynn, 8, Makayla, 12, and Ashley, 11.
"He is for the American people, not just one small group of people," said Ms. Couture, who said she is going to school for a degree in social work. "I believe in his ideals and morals."
Also getting a presidential hug was Judy Baker, 70, of Vacaville, Calif., who has been staying with a friend in Toledo since July 31 to volunteer for the campaign because California is considered a safe state for Obama. She was wearing a pink shirt with the slogan, "Another Mama for Obama."
"I told him, 'Toledo has your back,' " Ms. Baker said. He said, 'Oh, another 'Mama for Obama' shirt, I love it."
Dan Greenberg, vice president of the Sylvania Education Association teachers'union, said he was with some other public school teachers at the airport.
"I said 'Thank you for your support of public education.' He acknowledged that. It was just great to shake his hand," he said.
Contact Tom Troy at tomtroy@theblade.com or 419-724-6058.
Guidelines: Please keep your comments smart and civil. Don't attack other readers personally, and keep your language decent. Comments that violate these standards, or our privacy statement or visitor's agreement, are subject to being removed and commenters are subject to being banned. To post comments, you must be a registered user on toledoblade.com. To find out more, please visit the FAQ.