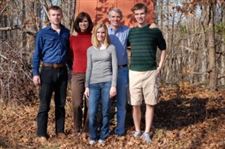 Rob Portman, center, with wife Jane, daughter Sally and sons Jed, left, and Will, right.
robportman.com Enlarge
Ohio U.S. Sen. Rob Portman (R.), formerly an opponent of same-sex marriage, says now his son's sexual orientation has convinced him to support marriage between gay people.
In a statement released by Sen. Portman's office to The Blade, also published as an op-ed column in The [Columbus] Dispatch, Mr. Portman said he will oppose a federal law on marriage and agrees to allow states to make their own calls.
"Two years ago, my son Will, then a college freshman, told my wife Jane and me that he was gay. He said he'd known for some time, and that his sexual orientation wasn't something he chose; it was simply a part of who he was," Mr. Portman said. "Jane and I were proud of him for his honesty and courage. We were surprised to learn he was gay, but knew he was still the same person he'd always been. The only difference was that now we had a more complete picture of the son we love."
Mr. Portman, known more for his interest in budget issues than social issues, is being mentioned as a possible candidate for the 2016 Republican presidential nomination.

Read Portman's Op-Ed piece here
Two years ago, he was picketed by gay marriage advocates when he gave an address at the University of Michigan Law School because of his then-support of the Defense of Marriage Act.
"I have come to believe that if two people are prepared to make a lifetime commitment to love and care for each other in good times and in bad, the government shouldn't deny them the opportunity to get married," he said Thursday.
He said his opposition to same-sex marriage was "rooted in my faith tradition that marriage is a sacred bond between a man and a woman."
He said he re-thought his Christian position and decided the Bible came down to "overarching themes of love and compassion and my belief that we are all children of God.
"Knowing that my son was gay prompted me to consider the issue from another perspective: that of a dad who wants all three of his kids to lead happy, meaningful lives with the people they love, a blessing Jane and I have shared for 26 years," Mr. Portman sai
He said he knows that "well-intentioned people can disagree on the question of marriage for gay couples," and said he still believes that "no law should force religious institutions to perform weddings or recognize marriages they don't approve of."
Senator Portman, who lives in the Cincinnati area, said that nine states and the District of Columbia have recognized marriage for same-sex couples over the last decade and during that time the divorce rate has declined.
Mr. Portman said he supported the Defense of Marriage Act 17 years ago, but that public attitudes have changed, with the "overwhelming majority" of young people in support of allowing gay couples to marry.
"In some respects, the issue has become more generational than partisan," he said.
He indicated he would repeal the Defense of Marriage Act
"An expansive court ruling would run the risk of deepening current divisions rather than resolving them," he said.
FreedomOhio, a group seeking to allow same-sex marriage in Ohio, issued a statement thanking Mr. Portman for endorsing "marriage equality," saying:
"The honorable U.S. Sen. Portman is the first Republican member of the United States Senate to endorse the freedom to marry, but we believe he will not be the last," said Ian James, FreedomOhio co-founder.
"We are moved by the love and support U.S. Sen. Portman and his wife are showing their son," Mr. James said. "We appreciate the fact that the Senator wants his son to be able to marry and form a family to find the same happiness and security as his parents."
Contact Tom Troy at tomtroy@theblade.com or 419-724-6058.
Guidelines: Please keep your comments smart and civil. Don't attack other readers personally, and keep your language decent. Comments that violate these standards, or our privacy statement or visitor's agreement, are subject to being removed and commenters are subject to being banned. To post comments, you must be a registered user on toledoblade.com. To find out more, please visit the FAQ.