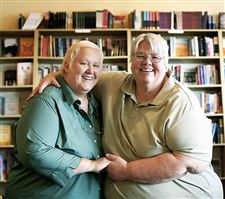 Partners Juliana Jackson, left, and Luann Antoszewski of Toledo embrace at People Called Women bookstore in Sylvania Township.
THE BLADE/JEFFREY SMITH
Enlarge | Buy This Image
It was a decision that Toledoans Luann Antoszewski and Juliana Jackson have been anticipating for years.
The U.S. Supreme Court ruling Wednesday — that legally married same-sex couples should be entitled to the same federal benefits as heterosexual married couples — elated the West Toledo couple, married in Iowa in August, 2009.
Since then, they say they have been one of the many legally married same-sex couples who were barred from receiving various health, tax, and retirement benefits, because of a 1996 provision defining marriage as only between a man and a woman.
"We are very excited about the change — neither of us thought we would see this happen in our lifetime," said Ms. Antoszewski.
RELATED ARTICLES:
Ms. Jackson said both are working to "put pressure on the legislators" in Ohio, where same-sex marriage has not been legalized, to achieve full equality.
"We're going to give it everything that we have. Petitions are being signed even as we speak," Ms. Jackson said.
Members of Equality Toledo also celebrated the ruling Wednesday night with a "Decision Day Pop-Up Party" at Tony Packo's at the Park.
Audrey Remusat, who hosted the event, gathered with about 30 others in the restaurant bar to celebrate the decision and support marriage equality.
Invalidating a key component of the Defense Of Marriage Act, the landmark Supreme Court ruling was hailed as a major victory for the gay rights movement nationwide.
Ms. Remusat, a transgender female or a person born a man who now identifies as a woman, said the decision was important, "to make a stance," and "to put an end to discrimination." She educated attendees about the ruling and mingled during the two-hour celebration.
Lindsey Reed of Toledo attended the event with her partner to support the cause and the community.
"It's nice to be around people who are caring about the same things that we are, and be as informed as we need to be," she said.
Brent Rabie, an Equality Toledo board member, said the fight for marriage equality has been a lengthy collaborative effort. The battle for full marriage equality is still looming in Ohio and in 29 other states that have existing constitutional bans on same-sex marriages.
"Some people have been working with this locally and nationally for several years," he said.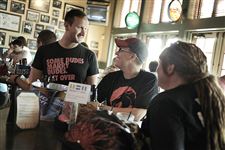 Lexi Staples, center, laughs while talking to Brent Rabie during Equality Toledo's Defense of Marriage Act decision party at Tony Packo's at the Park. About 30 people gathered in the restaurant bar to celebrate the decision and support marriage equality.
THE BLADE/JEFFREY SMITH
Enlarge | Buy This Image
Ohio effect unclear
Two University of Toledo constitutional law professors, Rebecca Zietlow and Lee Strang, said the language Justice Anthony Kennedy used in the majority opinion of the United States vs. Windsor case, which was the case in which Section 3 was ruled unconstitutional, makes it unclear how the ruling could affect the future of gay marriage in Ohio.
"[Justice Kennedy] talks an awful lot about the fact that marriage and family law are traditionally a matter of state law, that the federal government needs to respect states," Ms. Zietlow said.
Mr. Strang said even though Justice Kennedy indicated gay marriage was a state, not federal issue, his reasoning behind the decision — that it was humiliating and demeaning to same-sex couples — is something that also could be used to argue a state-level ban of gay marriage is unconstitutional in future cases.
U.S. Rep. Bob Latta (R., Bowling Green) released a statement on the ruling, stating that he believes marriage should be between one man and one woman. He also said the court ignored the constitutional authority of Congress: to write laws for federal purposes.
"As states continue to define their own marriage policy, a robust public debate will resume on the state level," Mr. Latta said.
U.S. Sen. Rob Portman (R., Ohio) said he would have preferred to see Section 3 repealed by Congress instead of judicial edict, but was pleased marriage laws would be determined by states.
Mr. Portman, who previously supported the Defense of Marriage Act but in March became the first Republican senator to endorse same-sex marriage, has a 21-year-old son, Will, who is gay.
"Section 3 should be repealed because marriage laws should remain in the hands of the states, where they have been since the beginning of the Republic," Mr. Portman wrote in a statement.
Democrats pleased
Local Democrats embraced the decision.
U.S. Rep. Marcy Kaptur (D., Toledo) said the ruling reverts marriage from a federal concern back to the states, where it has been throughout U.S. history.
"[Support for same-sex marriage] has been developing across society, but [the ruling] is a transformational moment for the country," Miss Kaptur said.
The ruling upholds the guarantees of equality that are outlined in the U.S. Constitution, said U.S. Sen. Sherrod Brown (D., Ohio).
"For the next generation of Americans, for the military families who have supported service members in the shadows, and couples who have dedicated their lives to one another for decades, this historic ruling proves that our American future is not defined by yesterday's inequality," Mr. Brown said.
Local couple Angelyn Davis and Karrie Snyder of Sylvania said they hope the message of marriage equality will stand the test of time.
The two women were granted a civil union by Hawaii in 2012, but moved back to Ohio to take care of their 9-month-old son.
"The Supreme Court's decision is a pretty big deal, especially for our baby. I hope one day he can be raised in a legally married family," Ms. Davis said, emphasizing the importance of protecting children of same-sex couples.
Toledo Councilman and mayoral candidate Joe McNamara said he has been at the forefront of the gay-marriage movement.
In 2007, he introduced a Toledo City Council ordinance to create a domestic partnership registry for the city to allow same-sex and unmarried heterosexual couples claiming benefits to demonstrate that they have a legitimate relationship.
The registry was approved by council and now has 174 couples. The vast majority on the list are same-sex couples but it does include a number of heterosexual couples.
Mr. McNamara said the registry has helped Toledo's image as a progressive, welcoming, and diverse community.
Pro Family chastises
But Greg Quinlan, founder and president of the Dayton-based Pro Family Network, criticized the Supreme Court's decision, saying homosexuality should not be treated as a civil right or given any special recognition from the federal government.
A self-proclaimed former homosexual, Mr. Quinlan said the claims of discrimination against homosexual couples are merely "anecdotal and emotional" and lack evidence.
"What happened today is, the federal government gave in to a political movement demanding recognition for who they go to bed with," he said.
Mr. Quinlan added, however, that the Supreme Court's decision will not affect Ohio directly, as the state does not currently recognize civil unions or domestic partnerships.
"For things to change here in Ohio, same-sex marriage will have to be put on the ballot," he said.
A ballot initiative in the state is under way.
David Mann, a Toledo attorney and a founding member of Equality Toledo, hailed the Supreme Court's decision as a "victory for equal rights" and "a step closer to full equality" for same-sex couples.
"For what this means for Ohio, we'll just have to wait and see," Mr. Mann said. "Ohio continues to permit discrimination in employment and housing, but the Supreme Court's decision is certainly the right step to keep the progress moving forward."
The Supreme Court's decision on the Defense of Marriage Act also will help combat societal stigmas that surround same-sex couples, said Shannon Frye, executive director of Rainbow Area Youth Toledo.
"This ruling is not going to be a panacea for homophobia. We're going to have to do it state by state, community by community," Ms. Frye said.
Not all were convinced that the ruling was a victory, however.
Bishop Leonard Blair of the Catholic Diocese of Toledo called the ruling disappointing.
He said he will continue to fight to uphold marriage as a union of one man and one woman marked by permanence, fidelity, procreation, and family.
"Law is a teacher that is meant to inform and uphold the common good," he said. "Accepting homosexual relationships as 'marriage' has the inevitable effect of weakening people's understanding and commitment to what marriage really is."
Gina Mercurio, owner of the feminist bookstore People Called Women in Sylvania Township, said the fight for marriage equality runs parallel to the battle to grant full human rights to minorities and those with mental or physical disabilities.
"Every step closer towards fulfilling human rights is a cause of celebration," Ms. Mercurio said. "It will take some time for all of this to happen, but none of us are gonna give up."
Staff writers Kelly McLendon, Ignazio Messina, and Jim Provance contributed to this report.
Contact Sam Gans at: sgans@theblade.com or 419-724-6516.
Guidelines: Please keep your comments smart and civil. Don't attack other readers personally, and keep your language decent. Comments that violate these standards, or our privacy statement or visitor's agreement, are subject to being removed and commenters are subject to being banned. To post comments, you must be a registered user on toledoblade.com. To find out more, please visit the FAQ.