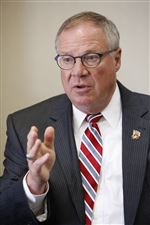 Toledo mayoral candidate D. Michael Collins meets with The Blade editorial board Monday.
THE BLADE/JEREMY WADSWORTH
Enlarge | Buy This Image
Councilman and mayoral candidate D. Michael Collins on Thursday criticized Deputy Mayor Steve Herwat for calling Toledo's $5 million surplus small.
Mr. Collins distributed two letters to councilmen at a finance committee meeting. The first, dated June 13, was from Local 92 president Capt. Jeff Romstadt to Mayor Mike Bell. It demanded the city negotiate with Local 92, the bargaining unit for Toledo's firefighters, regarding the surplus.
The letter said Local 92 voluntarily made economic concessions during 2012 negotiations. The letter cited a clause in the collective bargaining agreement that said midterm bargaining language would be activated when unforeseen circumstances arise. Those unforeseen circumstances include a surplus, the letter said.
The second letter, dated July 1, was a response from Mr. Herwat to Captain Romstadt that said bargaining pursuant to the clause was only for very specific situations, to which "the existence of a possible small budget surplus" did not apply.
"It seems to me we have somewhat of a disconnect," Mr. Collins said. "One minute we have a $5 million surplus, and now we have the existence of a small budget surplus. ... I don't see how $5 million surpluses are now considered small budget matters."
Mr. Herwat said $5 million is about two percent of Toledo's 2013 general fund budget, which totals $244,482,520. The city spent 50.3 percent of its budget through the first six months.
"Our income tax projections for the year 2013 are not meeting the 3.4 percent that we had anticipated when we put the 2013 budget together," Mr. Herwat said, adding the surplus could be tapped into if the budget is exceeded.
Mr. Collins, who led the police patrolmen's union for 10 years and is one of seven candidates running for mayor, said calling the surplus small was an example of the lack of transparency by the Bell administration. Mr. Bell announced the surplus June 6.
"These are the reasons why government gets in trouble, because statements are made for political reasons, and then when they come back and they're asked for further explanation, the political reason now becomes of lesser importance when dealing with people," Mr. Collins said.
Finance Director Patrick McLean reported the city collected $68,889,070 from January through June, a $419,226 and 0.61 percent increase from the first six months of 2012.
Mr. McLean, at his final committee meeting before he takes a position at Albion College next month, also said the city's credit ratings were maintained. Moody's gave Toledo an A2 rating with a stable outlook, and the city kept an A- rating with a stable outlook from Standard and Poor's.
Committee chairman George Sarantou said the ratings are a result of service employers such as Hollywood Casino and the University of Toledo Medical Center, the former Medical College of Ohio, having a strong economic presence in Toledo.
"We continue to diversify our local economy and not be dependent strictly on the automobile or manufacturing industry here in Toledo," Mr. Sarantou said.
The news was accompanied by the report the city spent more than 50 percent of its budget through the first half of the year. That was partially the result of funds spent on fire and police overtime, which were both over budget through June.
Contact Sam Gans at: sgans@theblade.com or 419-724-6516.
Guidelines: Please keep your comments smart and civil. Don't attack other readers personally, and keep your language decent. Comments that violate these standards, or our privacy statement or visitor's agreement, are subject to being removed and commenters are subject to being banned. To post comments, you must be a registered user on toledoblade.com. To find out more, please visit the FAQ.