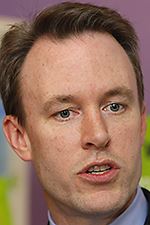 FitzGerald
THE BLADE/ANDY MORRISON
Enlarge | Buy This Image
COLUMBUS — It came as little surprise on Monday when former Gov. Ted Strickland endorsed Ed FitzGerald as Ohio's best shot of defeating Republican Gov. John Kasich in 2014.
Strickland
ASSOCIATED PRESS Enlarge
Mr. FitzGerald is the only Democrat in the race. But Mr. Strickland said he's closely watched the Cuyahoga County executive ever since the high-profile ex-governor decided not to seek a rematch with Mr. Kasich himself.
"It's very clear to me that he gets it, and he gets it done," Mr. Strickland said. "He's someone, I believe, the middle class and people struggling to become part of the middle class can put their trust in."
Mr. Kasich and fellow Republicans frequently cite Mr. Strickland's economic record during his recession-era administration whenever making the contrast to what Mr. Kasich calls the "Ohio miracle."
"This election is about the future, not the past, as it should be," Mr. Strickland said. "I can point to Governor Kasich's record. I don't want to overstate things, but I believe the recovery began in the last year of the prior administration. Unemployment decreased during that last year about the same amount it decreased in the first full year of the Kasich administration."
While Mr. Kasich has cited income and estate tax cuts, Mr. Strickland pointed to increases in the state sales tax and policies on the GOP watch that Democrats claim have led to property tax increases at the local level.
"I think this governor can rightfully be labeled a tax increaser," Mr. Strickland said. He also accused the governor of participating in a national GOP attack on women and organized labor.
The Ohio Republican Party was happy to stick to the script and link Ed and Ted.
"With today's endorsement Ted Strickland says that Ed FitzGerald is the best candidate to carry on his legacy of job loss, record high unemployment, and a budget shortfall of billions of dollars," party spokesman Chris Schrimpf said.
"Given Strickland's failed, scandal-plagued record, it's no surprise that FitzGerald doesn't want to be seen with Strickland."
Guidelines: Please keep your comments smart and civil. Don't attack other readers personally, and keep your language decent. Comments that violate these standards, or our privacy statement or visitor's agreement, are subject to being removed and commenters are subject to being banned. To post comments, you must be a registered user on toledoblade.com. To find out more, please visit the FAQ.