Boyce
THE PLAIN DEALER Enlarge
COLUMBUS — The Ohio Republican Party on Tuesday accused Democrats of "deafening" and "stunning silence" in the wake of an indictment against a former deputy treasurer accused of accepting bribes from a broker to steer lucrative state business his way.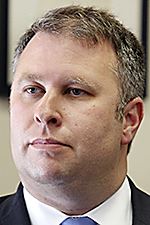 Borges
THE BLADE/KATIE RAUSCH
Enlarge | Buy This Image
"These are obviously disturbing developments," GOP Chairman Matt Borges said. "It's impacted someone who was a statewide officeholder in Ohio. [Former Treasurer Kevin Boyce] owes answers. Ohio Democrats owe answers. It's surprising to me at this point that Ohio Democrats have had nothing to say."
Amer Ahmad, 38, pleaded not guilty on Monday to felony bribery and money-laundering charges stemming from an alleged scheme to steer securities trades to Canton broker Douglas E. Hampton, 39.
Mr. Hampton recently entered into a plea agreement, admitting to conspiracy for paying more than $500,000 to Mr. Ahmad and his close friend and business associate, Mohammed Noure Alo, 35, a Columbus lobbyist.
The charges have given Republicans leverage to push back after weeks of Democrats trying to capitalize on conflict of interest allegations against Gov. John Kasich and the CEO board members of his private, nonprofit economic development entity. The Ohio Ethics Commission last week dismissed the JobsOhio complaints.
"After pleading guilty in a pay-to-play scandal himself, it's hard to take Governor Kasich's ethically challenged Republican Chairman Matt Borges seriously," said Ohio Democratic Party spokesman Jerid Kurtz.
"But sure, we don't condone the alleged crimes in this case, just like we don't condone the crimes to which Borges pled guilty, or the hundreds of thousands of dollars in liens he accumulated after years of failing to pay his taxes, or even the self-dealing at JobsOhio."
In 2004, Mr. Borges pleaded to a misdemeanor charge of misuse of public office stemming from campaign fund-raising for former Treasurer Joe Deters. The conviction was later expunged.
Mr. Ahmad recently resigned as Chicago's comptroller under Mayor Rahm Emanuel. He was deputy to Mr. Boyce, the Democrat state treasurer, at the time of the alleged two-year scheme, beginning in January, 2009.
Mr. Boyce, now a state representative from Columbus, is not named in the indictment. He did not return a call for comment.
He was appointed treasurer by Democratic Gov. Ted Strickland at the start of 2009 to replace Richard Cordray, who had just been elected state attorney general. Mr. Boyce lost in 2010 to Republican Josh Mandel, now the treasurer.
The indictment claims Mr. Hampton had about $3.2 million in commissions on treasurer business directed his way, and funneled more than $500,000 to Mr. Ahmad and his co-conspirators.
Mr. Ahmad, who also served as Ohio's chief financial officer, faces charges of conspiracy, bribery, money laundering, wire fraud, and making false statements. Mr. Alo is also charged with conspiracy and wire fraud.
Joseph Chiavaroli, 33, of Chicago recently entered a plea deal, admitting to conspiracy with Mr. Ahmad to commit money laundering by trying to conceal the alleged bribes by funneling them through Mr. Chiavaroli's landscaping business.
Contact Jim Provance at: jprovance@theblade.com or 614-221-0496.
Guidelines: Please keep your comments smart and civil. Don't attack other readers personally, and keep your language decent. Comments that violate these standards, or our privacy statement or visitor's agreement, are subject to being removed and commenters are subject to being banned. To post comments, you must be a registered user on toledoblade.com. To find out more, please visit the FAQ.