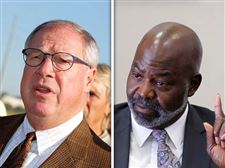 Collins and Bell
THE BLADE
Enlarge | Buy This Image
Some Toledo mayoral debates will be filmed and shown on Buckeye CableSystem this month.
Buckeye CableSystem had a videographer at a mayoral event in South Toledo on Tuesday night, and it was replayed on Buckeye's Channel 69 at 9:30 p.m.
The video of that debate at the Walbridge Park Shelter House will also be on Buckeye Video on Demand, where it will stay for two weeks.
Buckeye, a sister company of The Blade, also plans to film the debates scheduled for next Tuesday at Burroughs School in South Toledo, Oct. 22 at Chester Zablocki Senior Center in North Toledo, and Oct. 24 at East Toledo Senior Center. Those will be broadcast on Channel 69 and placed on VOD.
In addition to Buckeye's coverage of the debates, televised debates are planned for Oct. 29 on WTVG-TV, Channel 13, and Oct. 30 on WTOL-TV, Channel 11, both at 7 p.m.
Guidelines: Please keep your comments smart and civil. Don't attack other readers personally, and keep your language decent. Comments that violate these standards, or our privacy statement or visitor's agreement, are subject to being removed and commenters are subject to being banned. To post comments, you must be a registered user on toledoblade.com. To find out more, please visit the FAQ.