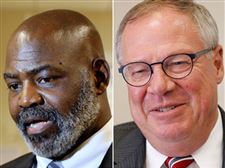 Mayor Mike Bell, left, and challenger D. Michael Collins, right.
THE BLADE
Enlarge | Buy This Image
The Bell versus Collins fight that has dominated recent mayoral debates over just how much money the city didn't have in 2010 should be called for Mayor Mike Bell, a review of city records from the period shows.
"There's no reason for me to lie. You can call me a liar, but I'm not a liar," Mr. Bell told Councilman D. Michael Collins in a heated exchange Tuesday night at a debate at the Walbridge Park shelter house in South Toledo.
Mayor Bell has said, repeatedly, that he faced a $48 million deficit when he took office in January, 2010, thanks to the budgetary sleight of hand of his predecessor, former mayor Carty Finkbeiner.
Mr. Collins, a city councilman and mayoral challenger, has cried foul, repeatedly, claiming Mayor Bell is grossly exaggerating the deficit he had to deal with and is taking too much credit for putting the city's financial house in order.
City finance records make it clear that Mayor Bell did face a $48 million deficit in 2010.
Click here to view the City of Toledo's balance sheet from Dec. 31, 2010.
The red ink Mr. Bell faced when he walked into the mayor's office in January, 2010, was an immediate $8.6 million debt left over from 2009, the last year of Mr. Finkbeiner's third term as mayor. Mr. Bell also inherited a 2010 budget submitted by the Finkbeiner administration that included $30.24 million in nonexistent revenue and an additional $8.75 million in overstated revenue.
Add the three numbers together and you get $47.59 million. Round that up and you get the $48 million deficit that is the most-talked- about number in this year's mayoral campaign.
"I'm the man who fixed a $48 million deficit," Mayor Bell proclaimed before the September primary.
"There was never a $48 million deficit," Councilman Collins said several times before and after the primary to become the mayor's challenger on the Nov. 5 ballot.
Mr. Finkbeiner still says Mayor Bell is exaggerating the budget problem he inherited and that there was no $48 million deficit.
"No way," Mr. Finkbeiner told The Blade this week. "Impossible."
But on Sept. 22, 2009, then-Mayor Finkbeiner publicly said a $25 million deficit was looming. And his own Nov. 15, 2009, budget proposal for 2010 contradicts recent statements he has made that there was only an $8 million deficit in 2010.
Mr. Finkbeiner prefaced the 2010 budget book with a letter to city council and Mr. Bell stating: "2010 will be one of the most fiscally arduous years in city history. The bottom line is, that without enhancements to revenue of the sort I have urged, throughout virtually all of 2009, the city will be approximately $30 million out of balance."
Still, Mr. Finkbeiner is sticking to his guns.
"The amount of the deficit inherited was $8 million, so where did the additional $40 million come from?" he asked a reporter Wednesday. "This is where I believe it was conjecture on my part and worst-case conjecture on Bell's part. It might have been worst-case conjecture on my part with that [$30 million.]"
It's also now clear that city labor union leaders' claims in 2009 that there wasn't a city financial crisis were wrong.
When Mr. Bell was 10 days into his first term, he slashed $11 million out of his predecessor's prediction for 2010 city income tax collections. No one argued. Soon thereafter, he announced there was a $48 million deficit. And so the city started executing a plan in early 2010 to address a sinking city economy and the whopping predicted deficit. Fast forward nearly four years to election season 2013, and everyone is arguing.
Deficit laws
Even though deficits are discussed as "projections," they are very real, and must be dealt with early in the year they occur — before March 31, according city charter. By law, city government, unlike the federal government, is not allowed to let its deficits accumulate larger and larger debt each year.
From the start of his term in 2010 until March 30, 2010, the $48 million deficit engulfed Mayor Bell's time. After multiple meetings with a team comprising city labor leaders, bureaucrats, and independent participants, the mayor persuaded a majority of city council to approve a combination of expense cuts, fee increases, and transfers that totaled $47.59 million.
City records show:
● Mr. Finkbeiner's 2009 budget, approved by council in January of that year, assumed that the city would collect $169.9 million from the 2.25 percent income tax. The assumption was later revised to $145 million. The city actually collected $141.5 million in 2009. The decreasing tax revenue in 2009 was a big part of why the city ended the year $8.6 million in the hole.
● The 2010 city budget that Mr. Finkbeiner left for Mayor Bell included a combination of $30.24 million in revenues that had not been approved by city council. The proposed 2010 budget included the elimination of the income tax credit for Toledoans who work outside the city — basically a $12 million-a-year tax increase — if enacted on Jan. 1, 2010. The second was an increase to the monthly trash fee up to $16. That would have generated $18.24 million.
● The projected income tax collection in the 2010 Finkbeiner budget was $147.17 million. The city actually collected $144.5 million in 2010.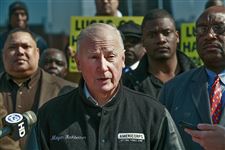 Former Mayor Carty Finkbeiner still maintains Mayor Mike Bell is exaggerating the budget program he inherited and that the city did not have a $48 million deficit when Mr. Finkbeiner left office.
THE BLADE
Enlarge | Buy This Image
Professors' estimates
In 2009, some city union leaders refused to believe the lower tax-revenue estimates supplied to the city by two University of Toledo economics professors — estimates that later proved to be accurate.
Professors Oleg Smirnov and David Black, hired by city council, filed a defamation lawsuit that summer against Toledo's police and fire unions after the unions made defamatory comments about the two professors and the quality of their work.
The suit was dropped later in the year. The complaint against the Toledo Firefighters Union Local 92 and its president, Jim Martin, as well as the Toledo Police Patrolman's Association and its president, Dan Wagner, said the two union bosses made false statements that caused harm to their "integrity, character, teaching ability, and professional career."
The professors delivered their 2009 forecast in February, 2009. Their report predicted the city could expect to collect as much as $147.8 million and as little as $140.7 million in 2009 from income taxes.The city actually collected $141.5 million in 2009.
Also in 2009, under union pressure, then-Mayor Finkbeiner negotiated several union contracts that extended beyond his term, granting rank-and-file employees a 2 percent raise, and safety forces a 3.5 percent raise beginning in January, 2011. The fire battalion chiefs got additional 3 percent raises in December, 2011.
These raises, at a time of falling city tax revenue, only increased the financial dilemma Mayor Bell faced.
Crafting the fix
Fixing the 2010 budget that Mr. Finkbeiner left him in his first few months in office was an arduous process, Mayor Bell said.
The biggest hit was $17 million in citywide spending cuts from the 2010 Finkbeiner budget. That was followed by city council hiking the city's monthly city trash fee to $15 a month. That generated an additional $11.1 million for the general fund. Another $9.61 million came from a transfer from the city's capital improvement fund, which meant less money available for street repairs and repaving.
Those measures were still not enough to eliminate the $48 million deficit the city faced in 2010.
Much of the remaining savings in Mayor Bell's deficit-reduction plan came from forcing concessions on city unions. Council had rejected that idea in 2009 when Mr. Finkbeiner asked the 12-member body to do just that, but city council capitulated in 2010.
The "exigent circumstances" approved by city council imposed unilateral cuts for all nonunion employees as well as members of the Toledo Police Command Officers Association, Toledo Fire Chiefs Association, AFSCME Local 7, Toledo Police Patrolman's Association, and AFSCME Local 2058. This action ended up bringing $5.1 million in savings.
The forced concessions included union employees paying their 10 percent share — what the city had been paying — of their pension contribution for the remaining nine months of 2010. They also would be required to pay a portion of their health-care costs based on a sliding salary scale.
One of the last pieces of the deficit-reduction puzzle was the $3.2 million in concessions to which Mr. Bell's former union, Local 92 Firefighters, agreed.
The decision by Mayor Bell, a former union city firefighter, to impose concessions on city workers so enraged area union leaders that they are bankrolling in large part the Collins campaign.
However, Gary Martin, president of the Toledo Fire Chiefs Association — the only city union to have endorsed Mr. Bell this election — said the mayor's leadership during the 2010 budget crisis helped the city recover economically.
"The exigent circumstances made the unions come to the table and negotiate, and it made them realize that it was serious," Chief Martin said. "He has been a good mayor and we got through that without any layoffs, and we are getting two new fire stations, so he has also been good for the fire department."
Moving forward
Councilman Joe McNamara, a Democrat who was eliminated from the mayor's race in the primary along with Lucas County Auditor Anita Lopez, said this week that there was a $48 million deficit "depending on how you count it."
Either way, he wants Mr. Bell and Mr. Collins to move on.
"I don't think it matters one iota for the future of Toledo whether there was a $1 million or $48 million deficit in 2010 and the quibbling is extremely disappointing and frustrating," Mr. McNamara said. "They should be talking about unemployment, neighborhoods, homelessness, poverty, abandoned homes, and how to put people back to work. It is ridiculous they are spending this much time on it."
So did Mr. Collins intentionally try to low-ball the 2010 deficit in recent mayoral debates to make Mayor Bell's claims look suspect?
He won't say, but Thursday he did say he still "doesn't believe" the $48 million deficit figure that Mayor Bell cites for 2010.
But he also said he wants to move past the $48 million debate.
"We can argue $48 versus $8 million or we can argue $48 versus $20 million," Mr. Collins said Wednesday. "We can argue all day and all night long, however, there comes a point when you have to agree to disagree and be civil about it."
Mayor Bell said he was pleased The Blade's review verified what he has said all along about 2010.
"What [Mr. Collins] is trying to do is diminish what all of us did, because it was also council that had to help me with this," the mayor said. "We cleaned up a mess that someone else made. ... Now we are a stable city and we have a stable outlook."
Contact Ignazio Messina at: imessina@theblade.com or 419-724-6171 or on Twitter @IgnazioMessina.
Guidelines: Please keep your comments smart and civil. Don't attack other readers personally, and keep your language decent. Comments that violate these standards, or our privacy statement or visitor's agreement, are subject to being removed and commenters are subject to being banned. To post comments, you must be a registered user on toledoblade.com. To find out more, please visit the FAQ.