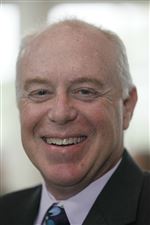 Barry Van Hoozen.
THE BLADE/SEAN WORK
Enlarge | Buy This Image
The Perrysburg Board of Education will be appointing a new board member with the departure of Barry Van Hoozen, who is taking a city council seat in January, but it is unknown whether the current board or the newly elected board will make the appointment.
Bylaws state the board has to make an appointment 10 to 30 days after Mr. Van Hoozen's resignation.
After Monday's board meeting, Mr. Van Hoozen said he doesn't know when he will resign. He would have to resign before Dec. 21 for the current board to have a say in the appointment. If he resigns after that date, the new board would make the call.
Voters re-elected Gretchen Downs, and elected Sue Larimer and Cal Smith to the board to fill the three open seats. Valerie Hovland's lost her re-election bid by 144 votes. Jason Decker, Lara Martin Lengel, and Mark Schoenlein also vied for one of the seats.
"I think it would be a disservice to the voters if it is not given to the next highest vote-getter," former city council member Maria Ermie said during the public participation portion of Monday's meeting, referring to Ms. Hovland.
If Mr. Van Hoozen resigns before the new board is in place, Ms. Hovland would not be able to be appointed since she would still be serving.
Mr. Schoenlein, a current board member who wasn't re-elected, said he was not interested in the appointment, and has told Ms. Hovland she should get it.
Ms. Downs, board president, said they will be accepting applications for the open position. Superintendent Tom Hosler said the district will inform the community how to apply when an open seat becomes available.
Monday's meeting began with nearly a hour of recognizing and honoring students, teams, staff, and members of the community.
Niara Williams and Val Kopp were awarded with the district's Youth Jefferson Award for being leaders and role models in and out of the classroom.
Jon Labbe of the American Heart Association awarded Fort Meigs Elementary for raising $13,971 for the non-profit organization this year more than any school in Ohio.
The girls cross country team, and girls golf team were honored for qualifying for state competition.
Sara Stockwell, assistant director of teaching and learning for the district, was honored for her Outstanding Young Alumnus Award from the University of Toledo.
Aura Norris, executive director of human resources and operations for the district, was awarded with the William L. Hunter Award for Distinguished Professionals from Ohio Association of School Personnel Administrators.
Mayor Nelson Evans and Perrysburg Municipal Court Judge Dwight Osterud were both honored for their service to the community and schools during their times in office. Mr. Evans and Mr. Osterud are both finishing their terms next month.
"They are fixtures in our community and schools," Superintendent Tom Hosler said. "When you think of honor, integrity, and service you think of these two pillars in our community."
Contact Matt Thompson at: mthompson@theblade.com, 419-356-8786, or on Twitter at @mthompson25.
Guidelines: Please keep your comments smart and civil. Don't attack other readers personally, and keep your language decent. Comments that violate these standards, or our privacy statement or visitor's agreement, are subject to being removed and commenters are subject to being banned. To post comments, you must be a registered user on toledoblade.com. To find out more, please visit the FAQ.