Carville dishes up politics Cajun style to local crowd
11/19/2013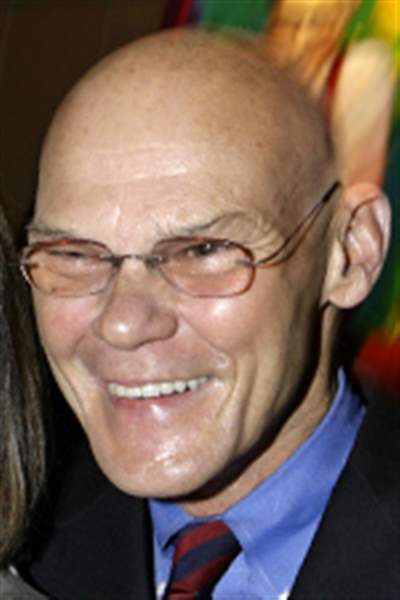 Carville
ASSOCIATED PRESS
Carville
Speaking in a Cajun twang so thick that at times his listeners strained to understand, national political consultant James Carville dispensed folksy political wisdom with a Democratic flavor to a full house at the University of Toledo on Monday night.
Famous for helping Bill Clinton win the presidency in 1992, Mr. Carville went from a behind-the-scenes political consultant to a TV pundit and political commentator and the author of several books.
Mr. Carville was enjoyably scornful of what he called "apocalyptic declinists," who, he said, believe so fervently that the country is heading for disaster that they can't compromise with the opposition.
He said 2013 may be bad, but times have been worse, such as 1862 when the union was in danger of being permanently severed. Even then something good happened: A Republican congressman proposed the land grant colleges' act.
"They said, what are you talking about? They made fun of him, but he persisted," he said. The bill passed, and President Lincoln signed it.
"The record is the land grant colleges have produced more Nobel Prize winners than all the universities of Europe combined. There's never a bad time to believe in the future. Don't let the doomsayers have the final say," he said.
As a student at Louisiana State University, Mr. Carville said there was hardly any source of news other than the local daily paper.
"If you wanted the New York Times you had to read it four days later in the library, and it came on a stick," Mr. Carville said. Despite the plethora of free news on the Internet, he said he doubted the public is better off.
"Do you think young people today are more knowledgeable about public affairs than 30 years ago? No," he said.
He said too many people turn to news and commentary sources that reinforce what they believe already.
"They use information the way a drunk uses a light post — for support rather than illumination," Mr. Carville said.
During a question-and-answer period he said he'd never run for office.
"I wouldn't vet well," he told the audience, which included a large contingent of recognizable local politicians. "My kids don't need to know everything."
The 69-year-old Mr. Carville noted that he didn't marry until he was 49. He and his wife, Republican strategist Mary Matalin, have two daughters, 15 and 18.
Asked to name the most likely Republican and Democratic candidates of 2016, he predicted Wisconsin Gov. Scott Walker and former Secretary of State Hillary Clinton.
Mr. Carville, who made famous the phrase, "it's the economy, stupid," said U.S. Sen. Ted Cruz of Texas was one of the more gifted politicians on the Republican side and predicted that Republican New Jersey Gov. Chris Christie stands no chance of getting the nomination.
He said Democrats have a strong edge going into 2016 because they have so many votes in solid blue states that they don't have to win all the swing states. The Republican candidate, however, will have to carry every swing state, including Ohio, Iowa, Florida, Virginia, New Hampshire, Colorado, and New Mexico.
He said President Obama is interesting in that he's good at politics but doesn't seem to like it. "He would much rather do math homework with his daughters," Mr. Carville said.
Joking about his home state, he said that "half of Louisiana is under water, the other half is under indictment."
The speech, given in the 501-seat Doermann Theater, was part of the Jesup Scott Honors College Lecture Series.
Mr. Carville is a professor of practice at Tulane University in New Orleans. With Ms. Matalin he co-wrote All's Fair: Love, War, and Running for President. He wrote 40 More Years: How the Democrats Will Rule the Next Generation and It's the Middle Class, Stupid!, with Stan Greenberg, with whom he founded Democracy Corps, an independent polling nonprofit organization.
Still to come in the UT lecture series are business strategy expert Richard Rumelt on Jan. 13 and Arizona State University President Michael Crow on March 10.
Contact Tom Troy: tomtroy@theblade.com or 419--724-6058 or an Twitter @TomFTroy.