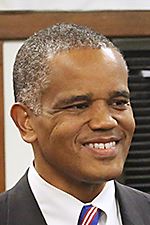 Kearney
THE BLADE/KATIE RAUSCH
Enlarge | Buy This Image
CLEVELAND — State Sen. Eric Kearney, the Democratic candidate for lieutenant governor, owes more in unpaid taxes than he and his campaign disclosed last week.
Since 1998, records show, the Internal Revenue Service and the state of Ohio have placed about $1 million in liens against Mr. Kearney, his wife, and their publishing company. That's nearly five times the $218,000 figure Mr. Kearney offered Friday when pressed about his tax debt.
There could be overlap between claims against the business and claims against the Kearneys. However, the Cincinnati lawmaker and aides to Cuyahoga County Executive Ed FitzGerald, the gubernatorial prospect who chose Mr. Kearney a week ago as his running mate, are not confirming how much is owed.
Campaign spokesman Matt McGrath said Tuesday that Mr. FitzGerald knew about all of Mr. Kearney's tax issues before selecting him. But Mr. McGrath said the campaign has sought payment records from the state and the IRS to better answer questions from reporters.
"We've requested documentation and are trying to track it down," Mr. McGrath said.
On Friday, Mr. Kearney and Mr. McGrath downplayed as old news the IRS' $73,560 lien against the state senator in 2010. The Cincinnati Enquirer had written about the unpaid taxes at the time, they noted, and Mr. Kearney won re-election to his Senate seat despite his opponent making it an issue.
The IRS debt, Mr. Kearney said Friday, stemmed from bookkeeping errors by a now-deceased executive at Sesh Communications, which Mr. Kearney owns with his wife, Jan-Michele Lemon Kearney. The company, which also does business as KGL Media Group, publishes the Cincinnati Herald and other newspapers aimed at black readers.
The campaign on Friday also disclosed a $144,000 lien against Mr. Kearney's wife and said the couple was on a payment plan and had reduced the debts to about $84,000.
Mr. McGrath said then that the campaign was committed to full disclosure of the issue. And Mr. Kearney, a lawyer and the minority leader in the Senate, denied having anything else to disclose at the time. "No, that's it," he replied when asked.
But records kept by the Hamilton County recorder's office show state liens against Sesh and KGL for unpaid unemployment compensation taxes totaling $105,000 since 1998. Another $683,000 in federal tax liens was found attached to Sesh or KGL.
"I interpreted the question differently," Mr. Kearney said by telephone Tuesday when asked why he did not disclose the other tax bills when pressed on the subject last week.
Mr. Kearney blamed the state liens on another executive during an earlier time at Sesh.
As for the additional $683,000 in federal liens, the FitzGerald-Kearney campaign had no information Tuesday on how much of that amount, if any, had been paid.
Guidelines: Please keep your comments smart and civil. Don't attack other readers personally, and keep your language decent. Comments that violate these standards, or our privacy statement or visitor's agreement, are subject to being removed and commenters are subject to being banned. To post comments, you must be a registered user on toledoblade.com. To find out more, please visit the FAQ.