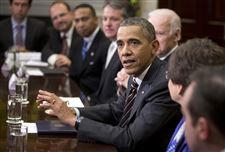 President Obama, with Vice President Joe Biden, gestures while speaking to the media before meeting with newly elected mayors to discuss job creation, income equality, and several other topics.
ASSOCIATED PRESS Enlarge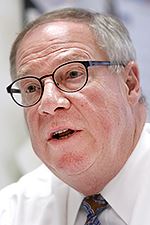 Collins
THE BLADE
Enlarge | Buy This Image
WASHINGTON — Conversation ran the gamut from algae in Lake Erie to unemployment benefits, the menu choices ranged from peanut butter and jelly to steak sandwiches, and the guests came from high-tech cities like Seattle and bankrupt Rust Belt cities like Detroit.
Sixteen newly elected Democrat and independent mayors from across the country came to the White House on Friday to talk with President Obama and Vice President Joe Biden about challenges facing cities, particularly the problem of income inequality and the need for early childhood education.
The group included Toledo Mayor-elect D. Michael Collins.
"This is a diverse group. What binds them together is their commitment to helping people succeed in this country," Mr. Obama said. "They have a shared vision of cities being critical hubs of creating jobs, creating business, seeing start-ups develop, [and] making sure there are pathways, gateways for opportunity."
RELATED LINK: White House Transcript of Mayors' Meeting
The President said his goal was to create a partnership with the new mayors to help improve education, the infrastructure, and the economy.
Reporters were escorted out after the President's remarks so the mayors could have a frank discussion.
Several, including Mr. Collins, spoke with reporters outside the West Wing after the meeting.
The visit "gave me new hope that there is an ear in the White House that worries about the cities and the unique struggles that we have. While some are universal, some are also unique," Mr. Collins said.
For his part, Mr. Collins expressed concerns about environmental problems in the Great Lakes, advocated for brownfield remediation, and presented an idea for school systems to pay high-achieving older students to mentor struggling kindergartners, first-graders, and second-graders.
He said the President seemed receptive to his ideas.
Mr. Collins said he also appreciated the chance to connect with other mayors, particularly those from Ohio and Pennsylvania, whose cities have similar challenges. Cincinnati Mayor John Cranley, Pittsburgh Mayor-elect Bill Peduto, and Harrisburg Mayor-elect Eric Papenfuse were among the participants.
"Because we're suffering from the same issues, we need to unite and we need to get the executive branches of government in Columbus and Harrisburg and bring them to the reality that they cannot continue to cash-strap us into positions and continue to give us unfunded mandates," Mr. Collins said.
Although the meeting occurred a day before the first anniversary of the school shooting at Sandy Hook Elementary in Newtown, Conn., Mr. Obama made no mention of gun-control policy in his prepared, public remarks. Nonetheless, gun violence arrived front-and-center when an aide interrupted the meeting to hand the President a note.
Mr. Obama told the mayors a school shooting had just occurred in Colorado but that there were no details in the note, according to Mr. Collins.
Mr. Collins said the President mentioned the struggles with implementing the Affordable Care Act, but did not explicitly ask the mayors to go home and sell it to their constituents. "He merely said that it's a looming problem," Mr. Collins said.
New York Mayor-elect Bill de Blasio said conversation centered on the need to reduce income inequality. Some ways to do that are to raise the minimum wage and to extend jobless benefits. "A lot of us ran our elections on a message of addressing inequality, and it was extraordinarily gratifying to hear the passion with which the President and the Vice President spoke about this challenge," Mr. de Blasio said.
"I think it was inspiring to hear our President, his concern for what we're facing, and his understanding the problems of our cities," he said.
Mr. Collins said he hadn't had high hopes the meeting would be substantive. "I feared it would be a dog-and-pony show, a photo op," he said. "I will tell you, it was not. The President was absolutely sincere and direct."
Block News Alliance consists of The Blade and the Pittsburgh Post-Gazette. Tracie Mauriello is the Washington bureau chief for the Post-Gazette.
Contact her at: tmauriello@post-gazette.com, 703-996-9292 or on Twitter @pgPoliTweets.
Guidelines: Please keep your comments smart and civil. Don't attack other readers personally, and keep your language decent. Comments that violate these standards, or our privacy statement or visitor's agreement, are subject to being removed and commenters are subject to being banned. To post comments, you must be a registered user on toledoblade.com. To find out more, please visit the FAQ.