Robert Reinbolt speaks during mayor-elect D. Michael Collin's transition team meeting. Mr. Reinbolt will be Mr. Collins' chief of staff.
The Blade/Lori King
Enlarge | Buy This Image
Toledo Mayor-elect D. Michael Collins will announce today his top management team that he describes as a combination of experience and youth, including holdovers from the current mayor and some throwbacks to the administrations of former Mayors Carty Finkbeiner and Jack Ford.
Under a partial list released Sunday night to The Blade, Mr. Collins named Robert Reinbolt, 66, who walked door-to-door with him in the campaign, as chief of staff, with the plan that he would mentor a younger person for up to one year. Mr. Reinbolt was chief of staff from 2006 to 2009 under former Mayor Finkbeiner.
COLLINS' MANAGEMENT TEAM
Affirmative Action (reduced to division status)
Business and Economic Development: Matt Sapara
Chief of Staff: Robert Reinbolt**
Finance: George Sarantou
Fire & Rescue: Luis Santiago*
Human Resources (reduced to division status)
Information, Communication & Technology (reduced to division status)
Inspection: Chris Zervos*
Law: Adam Loukx*
Neighborhoods: Tom Kroma
Police: William Moton
Public information: Lisa Ward**
Public Service: William Franklin
Public Utilities: Robin Whitney
* Retained from Bell Administration
** Not subject to confirmation
Mr. Collins will name police Lt. William Moton, 68, as police chief; Councilman George Sarantou, 61, as director of finance; retired Public Service Director William Franklin, 60, to head that same department again, and Tom Kroma, 44, as director of neighborhoods.
Matt Sapara, 40, chief operating officer of the Toledo-Lucas County Port Authority, will take over as director of business and economic development, and would likely become the highest-paid city employee, receiving in excess of $130,000 a year.
Robin Whitney, 50, commissioner of engineering services, will become the director of the Public Utilities Department.
Directors retained from the Bell administration are Law Director Adam Loukx, 49, who has held that job since 2008; Fire and Rescue Chief Luis Santiago, 49, who was appointed in 2011, and Director of Inspection Chris Zervos, 65, who was appointed to that post in 2011.
The picture of his administration will become clearer when Mr. Collins releases the lower-level appointees — commissioners and managers who are likely to include a few people now serving as directors under Mayor Bell.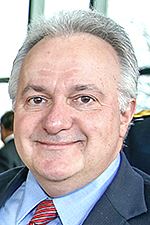 George Sarantou, finance director.
THE BLADE
Enlarge | Buy This Image
Mr. Collins will be sworn in on Jan. 2. Mr. Collins, a political independent, defeated Mayor Bell, also a political independent, on Nov. 5.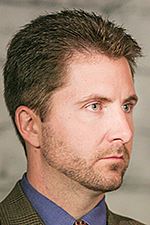 Tom Kroma, director of neighborhoods.
THE BLADE
Enlarge | Buy This Image
"There are people that I carry over and there are people that I'll change," Mr. Collins said Sunday night.
Lt. William Moton, chief of police.
The Blade
Enlarge | Buy This Image
He said he dispensed with the deputy mayor positions used by Mr. Bell to emphasize that the mayor has overall responsibility and that the directors are responsible to run their departments like companies, and to consult with the chief of staff.
He said he told his intended directors, "When things go well, as I anticipate they will, the mayor will not be standing at the microphone soaking in all of the glory. It will be the individuals responsible. When things go bad, you will not be standing in front of the microphone or the camera; I will take full responsibility unless you've done something unethical or illegal."
Mr. Bell's deputy mayor of operations, Steve Herwat, turned in his resignation the day after the election, and the deputy mayor in charge of economic development, Paul Syring, is expected to return to the law department staff.
"The city of Toledo has now a 20-year experience in a strong-mayor form of government, but realistically we have not been a truly strong-mayor form of government because we have been a hybrid of city manager form of government, and the chief of staff has become symbolically the city manager and the mayor has been unfortunately ceremonial in most parts, and that's not going to be the administration that's coming into place," he said.
The mayor-elect said he would oversee the directors of economic development and law, while the chief of staff would oversee all other departments.
"We will not have an operation that is not friendly to the people we serve," Mr. Collins said.
Lisa Ward, Mr. Collins' executive assistant and public information officer, will oversee the office staff, the Board of Community Relations, and the Youth Commission.
Mr. Reinbolt said he would remain as chief of staff for no longer than one year. Joel Mazur, 33, Toledo's brownfield redevelopment officer, will be mentored to eventually fill that job, Mr. Collins said.
Mr. Franklin will mentor Stephen Leggett, 26, who managed Mr. Collins' campaign.
Mr. Collins said he is confident Mr. Moton will implement his campaign promises of reopening the Northwest District Police Station in the first 100 days, revitalizing the Block Watch program, and restoring what he calls "beat integrity," such as officers assigned to beats rather than deployed as needed.
Lieutenant Moton is a former Marine like Mr. Collins. He was hired on Sept., 9, 1983, promoted to sergeant on Jan, 30, 1987, and then again promoted to lieutenant on June 16, 1989.
Police Chief Derrick Diggs announced his resignation last week.
Mr. Reinbolt and Mr. Franklin are long-time city employees who have each held several city jobs.
Mr. Reinbolt is a former director of public service and Mr. Franklin was Mayor Ford's assistant chief operating officer. They both retired from the city when the Bell administration chose not to retain them.
"I have been doing my own little consulting business of project management," Mr. Reinbolt said.
"Most recently I was involved with the Secor Village project. I am an engineer and I have done a lot of engineering work, a little political work with a variety of candidates, and playing a lot of golf."
Mr. Reinbolt was also involved in an unsuccessful effort to change Lucas County government from the current row-office form of government to a county executive system.
As part of Mr. Collins' pledge to reduce executive positions by 20 percent, he plans to send legislation to city council to reorganize several city departments. Information Technology would be demoted from a department to a division of the Finance Department. Human Resources and Affirmative Action, which are currently departments, would be divisions under the supervision of the chief of staff. Mr. Reinbolt will also serve as safety director.
Also staying on are Health Department Commissioner David Grossman and Plan Commission Director Tom Lemon.
According to the 2014 proposed budget, the salaries of the law, finance, public utilities, and inspection directors will be $92,354.
The director of public service would be paid $92,355; the police chief, $106,799, and the fire chief $112,072. The chief of staff's salary will be $93,115.
Contact Tom Troy at tomtroy@theblade.com or 419-724-6058.
Guidelines: Please keep your comments smart and civil. Don't attack other readers personally, and keep your language decent. Comments that violate these standards, or our privacy statement or visitor's agreement, are subject to being removed and commenters are subject to being banned. To post comments, you must be a registered user on toledoblade.com. To find out more, please visit the FAQ.