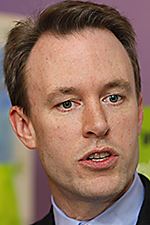 FitzGerald
THE BLADE
Enlarge | Buy This Image
COLUMBUS — Ohio Democratic gubernatorial candidate Ed FitzGerald may not have a clear path to his party's nomination following an unexpected, last-minute entry into the race before Wednesday's filing deadline.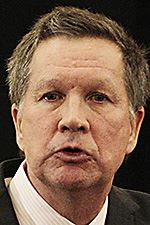 Kasich
BLADE SPECIAL Enlarge
Larry Ealy of Trotwood, who has run for Dayton area office without success in the past, filed petitions for the May 6 Democratic primary election along with his would-be lieutenant governor, Cincinnati licensed practical nurse Ken Gray.
The secretary of state's office now will ask county election boards to verify the validity of signatures on all of the candidates' petitions to ensure they surpass the 1,000 needed to quality.
Mr. Ealy could not be reached for comment. He was largely off the radar of the state Democratic Party. The FitzGerald campaign declined to comment.
It had appeared that Mr. FitzGerald, the Cuyahoga County executive, would avoid a primary challenge on his way to squaring off with Republican Gov. John Kasich in November after Hamilton County Commissioner Todd Portune dropped his attempt to get on the ballot.
Mr. Kasich, meanwhile, has avoided a threatened primary challenge from his right.
Charlie Earl, a former GOP state representative from Bowling Green, filed petitions as expected to run as a Libertarian.
Some conservatives have speculated — and Democrats have hoped — the presence of Mr. Earl on the ballot might draw unhappy Republicans from Mr. Kasich.
The Libertarian platform supports the proposed right-to-work initiative that legislative leaders and Mr. Kasich have not embraced.
But it also supports other proposed ballot initiatives to legalize medical marijuana and same-sex marriage that conservatives may be less comfortable with.
The Green Party is again offering Dennis S. Spisak, of Struthers, near Youngstown.
Mr. Kasich is running with Lt. Gov. Mary Taylor.
Mr. FitzGerald now has Sharen Neuhardt, a former Planned Parenthood board member, on his team.
Mr. Earl is with Sherry Clark, publisher of the Liberty Voice in Delaware.
Mr. Spisak is running with Suzanne Patzer, an information technology supervisor in central Ohio.
In other statewide races:
●Attorney general: Republican incumbent Mike DeWine is seeking a second term and likely will face Democratic former Hamilton County commissioner David Pepper in the fall. The Libertarians are offering Columbus civil engineer Steven R. Linnabary.
●Secretary of state: Republican incumbent Jon Husted, Democratic state Sen. Nina Turner (D., Cleveland), and state Libertarian Party spokesman Aaron Keith Harris all want to be the state's top elections official and keeper of business records.
●Auditor: The state's top accountant David Yost, a Republican, hopes to keep his job. State Rep. John Carney (D., Columbus) is alone in seeking the Democratic nomination. The Libertarian is Robert C. Coogan, a CPA from the Cincinnati area.
●Treasurer: Republican incumbent Josh Mandel will be back on the statewide ballot for the third time in four years. He faces likely November opposition from Democratic state Rep. Connie Pillich of Cincinnati, and Libertarian physician Marc Allan Feldman.
●Supreme Court Justice Judith French, a Republican appointed last year by Mr. Kasich, will defend her seat in November against Democratic Cuyahoga County Common Pleas Judge John O'Donnell.
●Supreme Court Justice Sharon Kennedy, a Republican first elected in 2012, will be back on the ballot this year and will likely face Democratic state Rep. Tom Letson, a sitting state representative and attorney from Warren, near Youngstown.
Contact Jim Provance at: jprovance@theblade.com or 614-221-0496.
Guidelines: Please keep your comments smart and civil. Don't attack other readers personally, and keep your language decent. Comments that violate these standards, or our privacy statement or visitor's agreement, are subject to being removed and commenters are subject to being banned. To post comments, you must be a registered user on toledoblade.com. To find out more, please visit the FAQ.