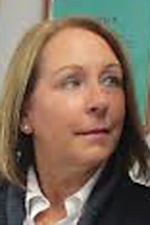 A protest against Rhonda Damschroder appearing on the May 6 primary ballot has been overturned.
FREMONT — By a 4-0 vote, the bipartisan Sandusky County Board of Elections on Wednesday dismissed the protest filed against Rhonda Damschroder's write-in candidacy after the complainant refused to defend his protest and walked out of the hearing.
Mrs. Damschroder, the wife of two-term Rep. Rex Damschroder (R., Fremont), filed for the Republican nomination in the May 6 primary election after Mr. Damschroder was barred from running by a clerical error that he made in his candidate petition.
The plan, as explained by Mr. Damschroder, is for his wife to win the nomination as a place-holder and then resign from the campaign and allow the Republican chairmen of Sandusky and Seneca counties to appoint him in her place for the Nov. 4 election.
Clyde resident John Brewer said in his protest filed last week that Mrs. Damschroder had committed election fraud, a fifth-degree felony, by falsely claiming it was her intent to run for Mr. Damschroder's 88th District House seat.
Just as he was asked to take an oath and give testimony, Mr. Brewer left the room when he realized Mrs. Damschroder was not present.
"If Mrs. Damschroder doesn't respect the 90,000 women, men, children, infants, seniors who live in this district enough to show up here and respond to this then my presence here is moot," Mr. Brewer said to the surprised elections board. Approximately 30 people attended the hearing.
"The whole purpose is to hear from her about her intent," Mr. Brewer said as he exited through a side door.
Don Brey, a Columbus lawyer representing Mrs. Damschroder, said Mr. Brewer should have subpoenaed Mrs. Damschroder if he wanted to question her directly. He said Mr. Brewer fled "like a coward," after making a "malicious" and "vicious" attack on Mrs. Damschroder.
He also charged that Mr. Brewer is a Democrat, based on his voting record and the fact that he donated money to Mr. Damschroder's Democratic opponent in the past, and thus ineligible to make a GOP primary protest.
In an email to The Blade after the hearing, Mr. Brewer indicated he plans to file a motion for reconsideration, but refused to say on what grounds. He said Mr. Brey was mistaken in claiming he lacked eligibility to file an appeal.
Mr. Brey said Mrs. Damschroder's declaration of candidacy was legal and accurate, and he said placeholder candidacies are legal.
Democratic board member Sandra Wise asked Mr. Brey if Mrs. Damschroder had "openly stated she has no intention of running in the November election or serving even one day in office," as alleged in Mr. Brewer's protest.
"No, she did not," Mr. Brey said.
That is, however, the essence of Mr. Damschroder's "Help Me, Rhonda" strategy.
Mr. Damschroder, 63, the operator of a family-owned airport, has taken responsibility for his filing error and has said publicly that he wants voters to write in his wife's name on the ballot May 6 so he can replace her in the general election.
Mr. Damschroder said his wife will make no statements during the campaign, while also saying that, as a retired teacher, housewife, and treasurer of his campaign, she would be qualified to serve in the legislature.
Also seeking the GOP nomination as write-ins are Tiffin businessman Bill Reineke, Jr., and Ballville Township Trustee Richard Geyer. Retired teacher Bill Young of Green Springs filed as a write-in for the Democratic nomination.
Contact Tom Troy: tomtroy@theblade.com or 419--724-6058 or an Twitter @TomFTroy.
Guidelines: Please keep your comments smart and civil. Don't attack other readers personally, and keep your language decent. Comments that violate these standards, or our privacy statement or visitor's agreement, are subject to being removed and commenters are subject to being banned. To post comments, you must be a registered user on toledoblade.com. To find out more, please visit the FAQ.