Citing spending during Bell's term, Collins says 'no more credit cards' for Toledo staffers
4/6/2014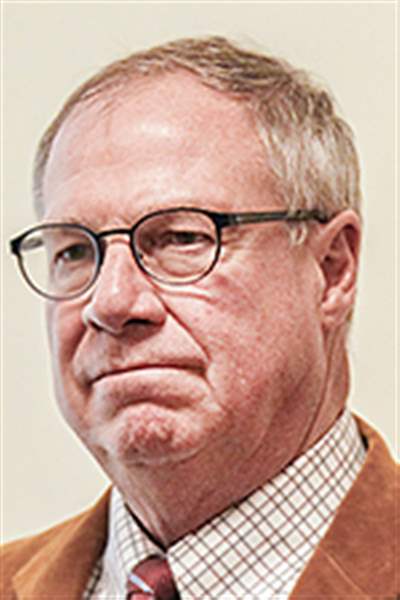 Mike Bell, atop the Empire Building in Shenzhen, China, did much traveling during his four years as Toledo mayor, including multiple trips to China, one to Japan, and one to Germany. Mr. Bell traveled so much it was difficult for the new city administration to determine which credit card charges related to which trips.
Mayor D. Michael Collins took a long look at the credit card purchases made by his predecessor and two other top Toledo officials the past two years, and he came to a swift decision.
"No more credit cards," the mayor said, explaining why neither he nor any top Toledo officials would be allowed to have a city credit card under his administration.
Collins
"It was like plastic on steroids," Mayor Collins said about numerous purchases made by former Mayor Mike Bell and former Deputy Mayors Steve Herwat and Tom Crothers.
The Blade made repeated efforts to reach Mr. Bell last week and once again on Saturday. The former mayor did not return several messages left by phone, email, and via Twitter. Mr. Crothers could not be reached for comment, and Mr. Herwat declined to comment when reached last week by The Blade.
A Blade review of credit card statements and receipts for the three men showed thousands of taxpayer dollars spent on food, drinks, gasoline, and flowers. Most monthly statements for the Fifth Third MasterCards show $39 late fees and interest charges that could have been avoided.
Mayor Bell's administration also was filled with travel — including multiple trips to China, one to Japan, and a visit to Germany last year. The former mayor traveled so much it was difficult for the current mayor to know which charges related to which trips. Each trip to China was preceded by gift purchases they handed over to potential investors or Chinese officials — including glass sculptures from the Toledo Museum of Art.
In March, 2012, Mayor Bell led a delegation of businessmen and city officials to Fort Worth to explore a giant commercial transportation hub in north Texas and to speak with developers and local officials there. Charges for $1,571 on Mayor Bell's credit card to pay airfare of the former mayor, Mr. Crothers, and then-city spokesman Jen Sorgenfrei — plus $1,320 for hotel rooms and $267 for a rental car — drew the immediate attention of Mayor Collins. He later acknowledged that was a documented business trip.
The picture of overall credit-card spending was initially incomplete because the Collins administration was missing several 2013 monthly statements for both Mr. Bell and Mr. Herwat. But late Friday, the city produced more records after requesting copies from the bank.
"Is $1,000 on food and restaurants in one month reasonable?" Mr. Collins asked. "This is the same period of time that the city of Toledo claimed such austerity that they were demanding in 2012, in collective bargaining, that concessions were needed."
The review uncovered charges from 2011 listed on Mr. Crothers' credit card statement that raised an immediate red flag for Mayor Collins.
On Sept. 30, 2011, Oct. 11, 2011, and Dec. 20, 2011, there were charges for identical amounts — $229.07 to "Northcoast Financial Services" totaling $687.21.
City Finance Director George Sarantou said the mystery charges were eventually identified as personal car payments made by Felicia "Lesa" James, assistant to the mayor under Mr. Bell.
Ms. James could not be reached for comment.
An official who worked with Mr. Bell said Ms. James accidentally used the city credit card to make a payment on her personal vehicle. When asked how that happened on three consecutive credit card statements, the former city worker said Ms. James had unknowingly set up automatic billing.
Mr. Sarantou said Ms. James eventually reimbursed the city, but the reimbursements puzzled Mayor Collins. The records left behind by Mayor Bell's team included copies of two March 15, 2012, cashier checks for $500 each — more than she owed the city. "From Lesa James" was hand-written on the same page of a copy of the two checks.
"My understanding is that the city was reimbursed for that," Mr. Sarantou said. "What I was told is that she had her credit cards on her desk as well as the city credit card and she put in the wrong credit card number."
Ms. James was not disciplined for the charges, but she did receive a suspension during the Bell administration for improperly using city letterhead for personal reasons.
Mayor Collins said he wants to avoid any such mistakes, rein in spending, and force employees to be more judicious in spending the taxpayers' money.
Crothers
Clamping down
Herwat
"Based on the experiences and what I am looking at, I don't feel comfortable at this point with the credit cards," he said. "Since I took office on Jan. 2, I have not asked for any gasoline when using my own personal car for city business; I have not asked for any meals."
The previous administration had regular charges for food. Sometimes there were accompanying receipts that listed attendees or a purpose for the meal. But many food and restaurant charges did not have a specific purpose attached.
On Dec. 6, Mayor Bell spent $59.33 at Target. No reason was listed and there was no receipt with the city records. In the month of October, 2013, Mr. Herwat spent $314 on flowers from Bartz Viviano.
Missing receipts held up timely payment of the credit card bills, Mr. Sarantou said.
Mayor Bell's final credit card statement for 2013 had a previous balance of $1,441.55, of which the city paid only $306.47, leaving a balance of $1,135.08. There were new charges of $245.59 — all for gasoline — and $36.32 in finance charges that would have been avoided if his administration had paid the bill off in its entirety the previous month. The charges included $37.16 for fuel on Dec. 31, 2013.
Mayor Collins said he wondered why the outgoing mayor was buying so much gasoline on his way out the door.
The final 2013 statement for Mr. Hewat could not be located by the Collins team. His November statement had a carryover balance from the previous month of $5,236.77 — of which $2,756.05 was paid off. There were new purchases totaling $3,328.46, and $153.53 in finance charges taxpayers had to cover.
Mr. Herwat's credit card was used Aug. 16, 2013, to buy a $199 camera and other photography equipment at Best Buy. The card also was used on May 21, 2012, to buy a $499 camera at Best Buy in West Toledo.
"We have the box, but we have no camera," Mayor Collins said. "They spent $449.85 in June, 2012, for flash drives at OfficeMax. We have the invoice but no flash drives. Not one of them is around here, I can tell you that."
The $499 camera was located, but the other is missing.
Charges questioned
The mayor said office supplies should have been purchased through the city's finance system.
Mayor Collins initially identified several charges as questionable but later accepted them as reasonable. Among those were $2,545 for four separate airline charges on Nov. 11, 2013 — after Mayor Bell had already lost his re-election bid. One of the charges was for $1,116.80 for a ticket on WestJet from Calgary, Alberta.
"Why was anyone flying to Canada after the election?" Mayor Collins asked.
The tickets were investigated and deemed proper, Mr. Sarantou said.
"The airline tickets from Canada — that really bothered me," he said. "In December, there was a meeting for the new fire station in East Toledo and they brought in these auditors to sign off on the accreditation and one was from Canada, so that is legitimate."
Other purchases included:
■ On March 12, 2012, Mr. Crothers' credit card was used to pay PayPal $40. There was no accompanying documentation to justify the charge. That same month, Mr. Crothers paid $673 for a banquet at the Toledo Club for a number of investors, including Jimmy Wu of Dashing Pacific Group.
■ One Sept. 28, 2011, Mr. Crothers' credit card was used to order $1,078 in office furniture from a Web site rather than a Toledo business.
■ In September, 2013, Mr. Herwat's card was used to pay for $682.49 for Forbes Magazine at the direction of Mayor Bell; $80 for an overnight stay at Kalahari Resort in Sandusky for a TEDX Toledo conference, and $1,000 for 10 tickets to the Imagination Station annual fund-raiser. He had $76 in finance charges that same month.
Paying his own way
City spokesman Lisa Ward said Mayor Collins has been judicious with taxpayer money and pushed all city employees to do the same.
"When he sends flowers, he pays himself," Ms. Ward said. "He sent some to the funeral when [Councilman] Theresa Gabriel's mother died."
Council President Paula Hicks-Hudson, a Democrat, said the city should "always be more frugal."
She supported Mayor Collins' policy to prohibit credit cards.
"It will have people spending more judiciously because they will have to wait for reimbursement," Ms. Hicks-Hudson said. "I have been proposing that prior to expenditures, there's a review to see if it is a want or a need."
Councilman Tom Waniewski, a Republican, said he supports the mayor's decision.
"When you're dealing with public dollars, you have to keep a tight fist on those," Mr. Waniewski said. "I heard Mike Collins got rid of those cards, and I was happy to hear that."
Contact Ignazio Messina at: imessina@theblade.com or 419-724-6171 or on Twitter @IgnazioMessina.