Webb
The list of streets the Collins administration plans to repave this year is 20 miles less than last year, and the plan is being decried by two councilmen as unfair to their constituents.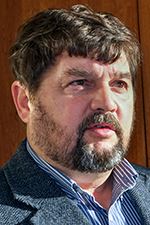 Craig
Councilman Mike Craig who represents District 3 — East Toledo and the old south end — trails the other five district councilmen in terms of lane miles to be fixed and money to be spent on roads this year. East Toledo is forsaken year after year, he said.
"District 3 is getting less than any other district by far," Mr. Craig said. "I have not been above fourth place on paving dollars the entire eight years I have been on council, and I have never gotten more than the average."
Mayor D. Michael Collins' proposal identified 39.15 miles of road lane to resurface or reconstruct this year — down from the record high 61 miles that former Mayor Mike Bell identified last year.
Council's finance committee will discuss the street repaving program when it reviews the proposed capital improvements budget during a public hearing May 22.
The city's capital improvements budget totals $61.7 million, which includes $17 million for debt service, $14 million that will be transferred to the general fund for operating costs like police and fire salaries, and $2.5 million for lease payments.
Council next week could vote on authorizing more than $17.66 million of CIP money for the street paving, street sealing, the city sidewalk repair program, and several projects like the construction of a new fire station in North Toledo. There is also $312,592 set aside for the "1 percent for the arts" program.
The street repair program alone will cost $12.2 million of city CIP money, but the city is expected to get $23 million in state and federal matching grants for main roadways projects.
"They always say my district doesn't have that many streets that can get state and federal dollars," Mr. Craig said. "Even if you take out the state and federal matching grants, I am still getting hosed."
The Collins administration is pledging $190,000 of city money for East Toledo streets and none for the old south part of District 2. By comparison, there will be more than $1.6 million of city money and more than $3.8 million of state and federal money to redo 7.17 miles in District 2 — the L-shaped district engulfing South Toledo, where Mayor Collins lives and the area he used to represent as a district councilman.
District 4, which includes central Toledo and the Old West End, is slated to receive more than $5.2 million from the CIP budget and nearly $12.3 million in state and federal money to fix 10.3 lane miles.
Ten miles in District 5 — which covers most of West Toledo — will will get fixed under the mayor's plan. The city is budgeting nearly $2.2 million for District 5, which is more affluent than Mr. Craig's District 3.
"It has nothing to do with affluence," said city spokesman Lisa Ward. "It has to do with road conditions and with how they are graded. And we try to do some in every district, but it is a situation where it is never going to be equitable."
District 1, covering parts of west, south, and central Toledo, is slated to get more than $1.6 million from the city and nearly $5.4 million from state and local grants to fix eight lane miles.
District 6, which covers North Toledo and Point Place, falls right behind District 3.
Councilman Lindsay Webb, who lives in Point Place, said the 3.06 miles identified to be fixed is nowhere near enough.
"I have 4.9 miles of road that were not completed last year that will be completed this year," Ms. Webb said. "This shows that both [my district and Mike Craig's district] are not being treated equally."
Her district this year is slated to get $1.27 million from the CIP fund and another $1.5 million from state and federal sources.
Ms. Webb said the pie should be sliced evenly six ways to give each district 16.6 percent of the available funding.
Ms. Webb said people in her district elected Mayor Collins with the understanding that infrastructure would improve.
Ms. Ward said the mayor had nothing to do with the selection of street projects this year.
"Roadway projects are selected using a combination of selection factors," she said. "Pavement condition rating, treatment type, complaints, traffic volumes, public utility project needs, funding sources, annual funding allocations, and location are the major factors in the street selection process."
Ms. Ward said the administration attempted to be cognizant of the needs of each district.
Mayor Collins said he asked his staff to write a five-year report on street projects. "Until I see that report, I am not in a position to give a true overview of District 3 street repair," the mayor said.
Contact Ignazio Messina at: imessina@theblade.com or 419-724-6171 or on Twitter @IgnazioMessina.
Guidelines: Please keep your comments smart and civil. Don't attack other readers personally, and keep your language decent. Comments that violate these standards, or our privacy statement or visitor's agreement, are subject to being removed and commenters are subject to being banned. To post comments, you must be a registered user on toledoblade.com. To find out more, please visit the FAQ.