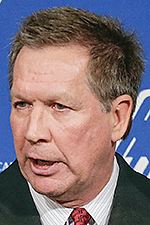 Gov. John Kasich
ASSOCIATED PRESS Enlarge
COLUMBUS — Gov. John Kasich's lead over Democratic challenger Ed Fitzgerald has narrowed slightly in the last two months, but the Republican incumbent still maintains a 12-point lead in the latest Quinnipiac Poll released today.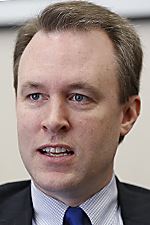 Ed FitzGerald
the blade
Enlarge | Buy This Image
The governor still leads the Cuyahoga County executive 48 percent to 36 percent a little more than three months out from the Nov. 4 election.
The poll of 1,366 registered voters was conducted from July 24 to 28, shortly after Mr. FitzGerald went on the air with his first TV ad, months after Mr. Kasich.
"Almost two-thirds of registered voters don't know enough about FitzGerald to have an opinion of him," said Peter Brown, assistant director of the Connecticut-based Quinnipiac University Poll. "That's an awful lot of Ohioans who still have to be introduced to him."
Sixty-five percent of those questioned say they still don't know enough about Mr. FitzGerald to form an opinion of him. The Democrat is woefully underfunded compared to the Republican incumbent and was slow to get his first ad on the air.
The last Quinnipiac Poll in May had Mr. Kasich up 50 percent to 35 percent. Voters say they approve of the job he is doing by a margin of 55 percent to 31 percent, an indication that even some who approve of his performance may not vote for him.
"Four out of five voters say Kasich's largest embarrassment as governor, the Senate Bill 5 fiasco, is important to their vote," Mr. Brown said. "Many voters say the fight over collective bargaining makes them less likely to vote for Kasich, but a plurality says it won't affect their choice."
In 2011, voters rejected Senate Bill 5 at the polls. Mr. FitzGerald and fellow Democrats are counting on voters remembering the law passed by Republicans and signed by Mr. Kasich just months after taking office. It would have restricted the collective bargaining power of public employee unions.
More recent efforts have gone nowhere to make Ohio a right-to-work state in which private and public-sector employees would not have to pay fees in lieu of dues to workplace unions they refuse to join.
Mr. Kasich has not embraced these efforts, but Democrats are trying to make the case to voters that such an effort would be inevitable if the Republican governor should win re-election.
Perhaps most telling, Mr. Kasich is no longer underwater with voters as he was as recently as February when it comes to whether voters believe he cares about their problems and whether he deserves re-election.
Sixty percent of voters, matching the high seen in May, say they are either satisfied or very satisfied with how things are going in Ohio right now compared to 39 percent who are either dissatisfied or very dissatisfied.
The poll has a margin of error of plus or minus 2.7 percentage points.
Guidelines: Please keep your comments smart and civil. Don't attack other readers personally, and keep your language decent. Comments that violate these standards, or our privacy statement or visitor's agreement, are subject to being removed and commenters are subject to being banned. To post comments, you must be a registered user on toledoblade.com. To find out more, please visit the FAQ.