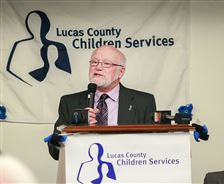 '‍I certainly will not quit if the levy fails. I am committed to the agency. I am committed to this community and I am committed to the families and children of Lucas County,'‍ says Dean Sparks, executive director of Children Services.
THE BLADE/JETTA FRASER
Enlarge | Buy This Image
When Dean Sparks retired from Lucas County Children Services in March and returned the next day to his job, he took with him a check for $77,026.
That was to cover the unused sick time and vacation he was able to bank during his nearly 17 years as executive director of the agency. He was not alone, a Blade investigation shows.
A number of administrators and workers at Children Services and other county offices have been able to cash in banked time when they leave county service.
Last year, the county paid $1,437,676 to employees for unused sick time and accrued vacation and compensatory time (time off in lieu of overtime pay) upon their departure from county employment.
More than $900,000 of that amount was for unused vacation days that employees had stockpiled over the years.
The payout for Mr. Sparks, 61, comes at a time when he's asking county voters to approve a tax increase for the agency he leads.
Children Services is hoping that voters will approve a seven-year, 1.75-mill property tax on the Nov. 4 ballot.
The request — the renewal of an existing, 1.4-mill levy that won't expire for another two years and an additional 0.35-mill — is needed, the agency says, to keep it from going into debt next year.
Under Mr. Sparks' new contract, he is paid $123,718 annually, or about $10,000 less than before he began collecting his pension. Mr. Sparks estimated he'll also receive about $70,000 a year from his pension.
Mr. Sparks said he had accumulated about 3,000 hours of unused sick time during his 32 years of public service, and received the maximum 520 hours, or $33,436, all at his outgoing rate of pay versus his lower pay when he accumulated sick time.
His new post-retirement contract also allows for him to have six weeks of paid vacation a year.
Mr. Sparks said he can't anticipate how voters will react between now and November over the money he received for the unused sick days and accrued vacation
"I have not done anything different than what other public employees who are in the public retirement system in Ohio have done in the past," he said. "I am not embarrassed. But I hope the public doesn't look negatively upon the agency."
Mr. Sparks said that if the millage issue is rejected in November, he plans to remain with the agency as executive director.
He said he has a contract with the board that will keep him in the job through August, 2015, and he wants to put Children Services on solid financial ground and put a policy in place to assist the agency's board in finding his replacement.
"I am not intending to quit. Who knows what the future will bring. But I certainly will not quit if the levy fails. I am committed to the agency. I am committed to this community and I am committed to the families and children of Lucas County," he said.
Mr. Sparks, who joined Children Services in 1997 after working for other child services agencies in the state, had accumulated nearly 17 weeks of vacation that gave him a $44,590 payout in March.
With nearly 32 years in public service, Mr. Sparks said he had been at the top of the scale with six weeks vacation at Children Services and it was more than he could take in a year.
"I couldn't use all of that," he said. "I got to the point that in one year that I took maybe four weeks [and carried over the rest]. I took vacation every year but I never took all of it."
Voters' perception
Lucas County Commissioner Pete Gerken said the agency's history of building healthy reserves and subsequent drawdowns on the fund balance as expenditures outpaced income from taxes and grants — coupled with the double dipping of Mr. Sparks — could be viewed unfavorably by voters.
"We need to press the board to make needed changes to that system," he said. "Quit using the fund balance like a checking account. That has been a problem."
Also, he said, the ballot will be crowded with issues. Two other county agencies have money requests on the ballot and voters, depending on where they live, will be deciding tax requests for schools, fire departments, and township road programs.
"I worry about the heavy levy ballot," he said. "This is a tough choice on how services are delivered to children. That is the cross hair of this thing. It is almost set up to say vote for it or we are out of money."
Mr. Gerken said pushing for Mr. Sparks to resign on the heels of a levy loss would only cripple the agency more, and his leadership is needed until the agency can choose his successor.
"There needs to be a vibrant, robust plan to find a leader to replace him," he said.
Carol Contrada, president of the county commissioners, said sometimes people retire, draw down their retirement, and find other employment that fits their skill set, a situation that isn't true double dipping.
However, she said that when someone retires, gets their benefits, and is immediately rehired for the same position, like Mr. Sparks did, that's true double dipping.
"I am opposed to that," she said.
She said that voters will weigh Mr. Sparks' payout and double income situation with the agency's finances and expenditures, and voters will balance factors, both positive and negative, when they cast their votes.
"The public has always been generous and supportive of children. I don't think they will use Dean Sparks' retirement and double dipping to penalize the children. At least I hope they won't," she said. "I believe the levy campaign committee will have to tell the whole story. [Mr. Sparks' situation] is part of that story."
As far as urging Mr. Sparks' departure upon a levy failure, the commissioner said: "I think that will be up to CSB."
Board member Larry Sykes said he doesn't anticipate the agency will be hurt by Mr. Sparks' $77,000 payment, which he said eventually would have been collected by the executive director.
"Whether or not the money he got will impact the levy, people understand what we do. We are the first ones in to respond when there is abuse of a child or neglect of a child. That is what the agency does," he said. "You can't tie the agency to the employees.
"If he had retired and moved on he would have got the same amount of money and we would have hired someone else at a higher rate. He got his money and came back and we cut his salary," Mr. Sykes said.
If the millage proposal loses, Mr. Sykes said the board will make "the necessary assessment and do what is best for the agency and the community." He said asking Mr. Sparks to resign would be a "knee-jerk reaction."
Theresa Cluse-Tolar, chairman of the agency's 15-member board, said she doesn't believe the executive director's payouts and double dipping will be pivotal in the election.
Any voter disapproval of the levy, she predicted, would be caused by voters feeling pinched by a tough economy.
"I can't really predict what the voters will do. Hopefully they will understand our dire situation," she said. "There are tough choices that people need to make."
If the levy were defeated, Ms. Cluse-Tolar said she would stand behind Mr. Sparks for the duration of his contract.
"We do not have anybody to jump into his shoes. He has done an excellent job," she said.
Calls to other Children Services board members were not returned.
Vacation carryover
Most private sector workers aren't allowed to carry over vacation time. They use it or lose it. But that's not the way local government works.
Three years ago, Lucas County commissioners negotiated contracts with their five unions to reduce severance payments for workers. The policy change was implemented for nonbargaining employees as well.
Before 2011, retiring employees could cash out up to one-third of their unused sick time, up to a maximum of 320 hours. However, the new contract limits that to one-quarter and a maximum of 240 hours of sick time.
The contracts also were amended to reduce the amount of unused vacation time employees could cash out when they stop working for the county. In the past, workers had been able to carry over three years' worth of unused vacation time. The new agreement reduced that amount in steps, ultimately restricting vacation time carry-overs to one year of vacation.
Since the change, annual payouts for unused sick time and vacation time made to employees who left county employment dropped from more than $3.2 million in 2011 to less than $1.8 million in 2013.
Mr. Gerken said the old severance structure in the collective bargaining agreements that existed before 2011 caused a spike in payouts at a time when the county was struggling financially.
"We saw that costs were going up and we had no ability to manage it," he said. "We knew we needed to do something to manage our fiscal house and be fair to our employees."
About 670 employees were affected by the policy change, including building regulations, canine care and control, emergency services, facilities maintenance, jobs and family services, management and budget, sanitary engineer, solid waste management, waste water treatment, and work-force development.
"We are proud of our workers for stepping up and agreeing to the changes. They did that at a time when they were not getting any raises," Mr. Gerken said.
Subsequently, the offices of the coroner, engineer, recorder, and treasurer and the Family Council, Mental Health, and Recovery Services, and Veterans Service Commission adopted the guidelines set by the commissioners.
"We try to lead by example. We figured that somebody had to go first on this and change the way we were doing things," Mr. Gerken said. "We did and tried to set some pattern on that."
Brian Cunningham, director of human resources for the offices under the county commissioners, said paring down the weeks of vacation that employees can accrue and carry over from year to year likely had an effect on the total payouts.
"That would have something to do with it," he said. "With carrying over fewer hours to cash out at the end of their employment, there is a direct implication there. But it depends on the number of employees who separated employment from the county."
According to county payroll records, 227 workers left employment with the county last year, about 50 fewer than in 2011.
Mr. Sparks said the Children Services board approved changes in its collective bargaining agreements in 2013 to reduce severance payouts and eventually put the agency in line with the county commissioners' guidelines.
Incremental steps in the union contracts will limit vacation-time carryovers to one year's worth of vacation by May 1, 2016, for all employees. Currently, employees who joined the agency after Jan. 1, 2013, can only carry over one year of vacation.
Before 2013, the policy for unused sick time payouts at retirement allowed for all employees to collect one-quarter, up to a maximum of 520 hours, of their unused sick leave. The new contract creating incremental steps ultimately will reduce the maximum number of sick-time payout hours for retirees to 240 in 2015.
Mr. Sparks said the concessions in severance payouts had been urged by county commissioners and enacted through negotiations.
"We are trying to implement this as fairly as we can with our staff. The bargaining units are being very cooperative," he said. "We are trying in the major things to follow the lead of the county and be part of the commissioners in the way they do things."
Contact Mark Reiter at: markreiter@theblade.com or 419-724-6199.
Guidelines: Please keep your comments smart and civil. Don't attack other readers personally, and keep your language decent. Comments that violate these standards, or our privacy statement or visitor's agreement, are subject to being removed and commenters are subject to being banned. To post comments, you must be a registered user on toledoblade.com. To find out more, please visit the FAQ.