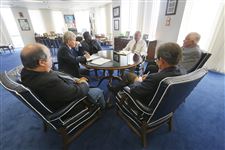 Toledo Mayor D. Michael Collins, in white shirt, meets with The Blade editorial board and a Blade reporter in his office Monday to discuss the Lake Erie algae problem that crip­pled Toledo's wa­ter sup­ply on Aug. 2. Mr. Collins' chief of staff, Robert Reinbolt, is to the mayor's left.
THE BLADE/AMY E. VOIGT
Enlarge | Buy This Image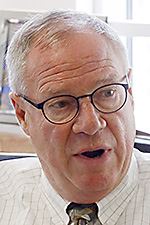 Collins
THE BLADE
Enlarge | Buy This Image
Mayor D. Michael Collins said on Monday that the water emergency that crippled Toledo's water supply Aug. 2 was like the terrorist attack suffered by the United States on Sept. 11, 2001 — a wake-up call to community action.
And Toledo City Council's utilities committee on Monday delved into the Aug. 2-4 crisis that made Toledo a national byword for the health threat posed by blooming algae.
Mr. Collins said in an interview with The Blade's editorial board and a Blade reporter that just as 9/​11 created a change in Americans' attitude toward terrorism preparedness, so the great algae bloom of 2014 should not be ignored.
RELATED:
■ Henry calls water crisis life-changing
■ Sylvania to mull water options
■ Algae forecast detailed at Stone Lab
■ Commentary: On Randy Gardner, an ace legislator, and a good guy

"I'm looking at the events of August 1st through 4th as not dissimilar to the events that took place in New York City in 2001. While we didn't have a terrorist attack, we had an environmental attack. I look at this as a wake-up call," Mr. Collins said.
From Aug. 2 to Aug. 4, metro Toledoans were forced, with no warning, to rely on bottled and trucked-in water for drinking, cooking, and brushing teeth after city chemists found unsafe levels of the liver toxin microcystin in the drinking water coming out of the Collins Park Water Treatment Plant in East Toledo.
The mayor also recalled that after the terrorist attacks that killed nearly 3,000 people, there was a lot of second-guessing.
"Thank goodness we moved past the Monday-morning quarterbacking and started finding solutions," Mr. Collins said. "That is my hope, that for this region, the Great Lakes and this entire country, that this will be the bell-ringing event to put into focus with the same energies to make sure this country is not only prepared for it but more importantly we take the necessary steps for prevention."
He said he is to present a paper on the water crisis to an upcoming meeting of the U.S. Conference of Mayors, and said he has reached out to Ohio U.S. Sens. Sherrod Brown (D.) and Rob Portman (R.) for help.
Council was not ready to stop questioning the events of Aug. 2-4, and during a nearly two-hour meeting council members peppered the administration's utilities leaders with questions about water testing, the emergency response, and the progress of the planned $300 million in renovations to the water plant.
During that hearing, members of the city's Department of Public Utilities said the team of water technicians and officials in Toledo and Columbus suddenly found themselves facing a water crisis that possibly would not have occurred had not the state suddenly ordered a new testing procedure for Toledo water.
Andy McClure, the superintendent of the Collins Park Water Treatment Plant, said the toxicity level occurred because, "it was the first really hot sunny day," generating the algae bloom around Toledo's water intake in Lake Erie.
But Don Moline, commissioner of utilities, said the high toxicity level was found because of a new testing protocol put in place just a few days earlier by the Ohio Environmental Protection Agency.
"The difference is the test method," Mr. Moline said. He said the new protocol requested by the state EPA may have generated "false positive" results for toxicity.
Mr. McClure said the Ohio EPA requested that Toledo switch from using the voluntary testing procedures it had been using for the previous six years and prepare its samples for testing a different way. That new testing protocol generated results that exceeded the 1 part-per-billion level, making Toledo water officially unsafe to drink, whereas all the samples tested using Toledo's previous processes were found to be well below the unsafe level.
"Any result that was above 1.0 was using the newly adopted Ohio EPA method," Mr. McClure said.
Councilman Lindsay Webb pushed back on suggestions that the Ohio EPA-mandated test was causing "false positive" results for Toledo's water, noting that the city came close last weekend to having to issue another do-not-consume advisory, even after the city and the EPA had agreed on a valid testing protocol.
"We really aren't in a false positive situation. The algae bloom is in fact impacting our water supply," Ms. Webb said.
John Keener, president of a private water treatment company and one of several citizens who testified during the hearing, said Toledo is selling and distributing too much water and pushing water out of the plant too fast.
"The slower you can treat water, the better you can treat water," Mr. Keener said.
Ed Moore, director of the Department of Public Utilities, said the plant's capacity is defined as 120 million gallons per day. Thanks to the conservation efforts made by the city and consumers, plant use has dropped to 80 million to 85 million gallons of water per day.
Contact Tom Troy: tomtroy@theblade.com or 419--724-6058 or an Twitter @TomFTroy.
Guidelines: Please keep your comments smart and civil. Don't attack other readers personally, and keep your language decent. Comments that violate these standards, or our privacy statement or visitor's agreement, are subject to being removed and commenters are subject to being banned. To post comments, you must be a registered user on toledoblade.com. To find out more, please visit the FAQ.