The man who became Waterville's mayor at age 21 appeared likely late Tuesday to become the Republican party's nominee to represent Waterville in the Ohio House of Representatives.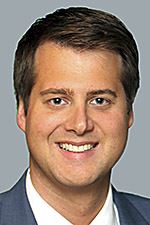 Merrin
Derek Merrin, 30, held a commanding lead in early returns for the three-way GOP primary for the 47th District seat, which covers western Lucas County and most of Fulton County.
With 77 of 94 precincts in the district reporting, Mr. Merrin had received 47.5 percent of the votes, compared to just 28.8 and 23.7 percent, respectively, for rivals Vicki Donovan-Lyle and Kevin Haddad.
Mr. Merrin was particularly strong in the Fulton County part of the district, capturing more than half the vote there, while later-reporting Lucas County precincts still gave him a plurality.
The 47th district seat is open because state Rep. Barbara Sears (R., Monclova Township) is term-limited after eight years in the Ohio House.
The winner will face off against Democrat Michael Sarantou, a 38-year-old from Sylvania Township, who was uncontested for his party's nomination.
Mr. Merrin, who now lives in Monclova Township, was Waterville's mayor from 2008 through 2011 after two years on village council. He has since worked for the auditor of state's office and now is a Realtor and property investor.
With voting returns still coming in, Mr. Merrin said he was "cautiously optimistic" about the outcome while noting the strong support from the voters and community leaders in Fulton County, where the county-level party endorsed him.
"I'm honored to have earned the Fulton County voters' support," he said. "Many of the elected officials and community leaders in Fulton County pushed me over the finish line."
Along with the Fulton GOP's support, Mr. Merrin received endorsements from Mrs. Sears and several other veteran Republican lawmakers.
Mrs. Lyle, 56, has been on the Sylvania Board of Education since 2005, including re-election last year.
Mr. Haddad, 60, served one four-year term on his township's board of trustees. Mr. Haddad ran unsuccessfully for Lucas County commissioner in both 2012 and 2014.
Tuesday's preliminary returns placed Mr. Haddad in third place in both counties.
Guidelines: Please keep your comments smart and civil. Don't attack other readers personally, and keep your language decent. Comments that violate these standards, or our privacy statement or visitor's agreement, are subject to being removed and commenters are subject to being banned. To post comments, you must be a registered user on toledoblade.com. To find out more, please visit the FAQ.