A smaller government key to growing economy
11/6/2016
IN THE CLOSING stages of this campaign, Donald Trump has presented a Contract with the American Voter that will rebuild our crumbling infrastructure, secure our porous borders, repeal and replace Obamacare, and finally get our economy growing again.
As Hillary Clinton faces more questions about her integrity as a candidate, I couldn't be more proud to run with Donald Trump on the issues facing the American people. Our comprehensive plan of tax, trade, regulatory, energy, and health care reforms is just the right medicine to restore American strength and prosperity.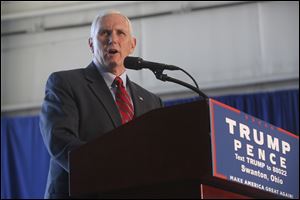 Republican vice presidential candidate Mike Pence, governor of Indiana, campaigns at Grand Aire Inc. at Toledo Express Airport. He was in western Lucas County on Oct. 25.
Our opponents in this race want you to believe that our economy is as strong as it can be, that taxing businesses is the only way to build new infrastructure, that Hillary Clinton's dream of an open border is shared by all of us, and that Obamacare is a work-in-progress rather than in total collapse. The people of America know differently. Donald Trump and I know differently.
To start, we are going to cut taxes for families and employers like I have as Indiana's governor. Lower business taxes will incentivize our corporations to build their factories and products in states like Michigan, North Carolina, Pennsylvania, and Ohio, rather than in China, Mexico, and Vietnam. Lower personal income taxes will create more consumption, savings, and investment and create more jobs and growth.
We are going to dramatically reduce America's regulatory burden — an astonishing $2 trillion annual hidden tax of almost $15,000 on every American household. On Day One, we will impose a regulation moratorium and order every government agency to eliminate wasteful regulations. This streamlining, in the tradition of Ronald Reagan, will make our businesses more competitive globally and deliver cheaper products to our door.
Donald Trump and I will also squarely address this nation's severe infrastructure gap. Our American Infrastructure Act will transform America's crumbling infrastructure into a golden opportunity for accelerated growth. This $1 trillion revenue-neutral plan will create thousands of jobs in construction, steel, manufacturing, and other sectors to build the transportation, water, telecommunications, and energy infrastructures we need to spur economic development.
We will lift restrictions on access to job-producing American energy reserves and allow vital energy infrastructure projects to move forward — invigorating job growth in energy-producing states from Colorado, the Dakotas, Iowa, Texas, and Wyoming to Indiana, Ohio, Pennsylvania, and West Virginia. Lower energy and electricity costs will make our companies more competitive and boost the purchasing power of America's consumers — spurring yet more job and economic growth.
Even as Obamacare is imploding, insurance premiums are exploding — up by 116 percent in Arizona, 53 percent in Pennsylvania, and 40 percent in North Carolina alone. Over a million Americans in 33 states are going to lose their plans in 2017. While Hillary Clinton wants to double down on this disaster, we will replace it with a truly affordable system based on more competition and choice.
Finally, Donald Trump and I will usher in a new era in trade policy with our End the Offshoring Act. We will simultaneously crack down on the trade cheaters and renegotiate every bad trade deal Bill and Hillary Clinton have gotten us into — from 1993's NAFTA and China's 2001 entry into the World Trade Organization to the 2012 South Korea deal, which has devastated the U.S. auto industry.
The damage being done in communities across our nation is not because of trade itself but because of politicians in Washington poorly negotiating trade deals.
Our Contract with the American Voter offers the American people a clear choice. To Make America Great Again, our plan is to grow the nation's economy and get government off the backs of hardworking Americans. Mrs. Clinton's plan is to grow government. We ask for your support on Nov. 8. We won't let you down.
Mike Pence is the governor of Indiana and the Republican vice presidential nominee.