Dems look to gain seats in northwest Ohio
Previous GOP winners gone in 3rd, 89th districts
11/6/2016
COLUMBUS — Two Republican-held state House seats in northwest Ohio are among the most hotly contested this year, as Democrats seek to claw their way back into relevance in the chamber.
Wood County's 3rd Ohio House District and the 89th Ohio House District, consisting of Ottawa and Erie, were marked by midterm shake-ups that left them without the representatives voters elected in 2014.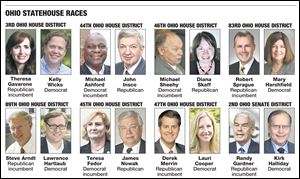 Rep. Theresa Charters Gavarone — attorney, former Bowling Green councilman, and local business co-owner — was appointed in August to replace the 3rd District's former Rep. Tim Brown. He stepped down to head the Toledo Metropolitan Council of Governments.
Her Democratic opponent is Kelly Wicks, owner of the Grounds for Thought coffee shop.
This House seat has been in Republican hands for decades, but Wood County went for President Obama in 2012.
In the 89th, Steve Arndt, a Port Clinton Republican and former Ottawa County commissioner, was appointed last year to replace Rep. Steve Kraus after a felony theft conviction forced him from office.
This had been a Democratic-performing district until Mr. Kraus upset Chris Redfern in 2014.
Ottawa County Auditor Lawrence Hartlaub, the Democrat, will match his countywide electoral success against Mr. Arndt's.
Republicans hold super-majorities of 65-44 in the Ohio House and 23-10 in the Senate.
The 2nd Ohio Senate District — covering Wood, Ottawa, and Erie counties, the western Lucas suburbs, most of Fulton — is the only local Senate contest. Sen. Randy Gardner (R., Bowling Green) is defending his seat against Kirk Halliday, the Democratic executive director of the Mental Health and Recovery Board of Erie and Ottawa Counties.
Other northwest Ohio districts where there are contests:
● 44th (central Toledo): Democratic Rep. Michael Ashford faces Republican small business owner John Insco.
● 45th (North and East Toledo, Washington and Sylvania townships): Rep. Teresa Fedor (D., Toledo) seeks re-election against Republican attorney James Nowak.
● 46th (South Toledo, Maumee, Holland, Springfield Township, eastern Lucas): Rep. Michael Sheehy (D., Oregon) is challenged by Republican Diana Skaff, a Curtice financial advisor.
● 47th (western Lucas County suburbs, most of Fulton): Newly appointed Rep. Derek Merrin (R., Monclova Township) seeks his first full term opposite local Democratic attorney Lauri Cooper.
● 83rd (Hancock, Hardin, northeastern Logan): Rep. Robert Sprague (R., Findlay) faces Democratic retired teacher Mary Harshfield.
Michigan Legislature
● 17th (northeastern Monroe, part of Wayne): Rep. Bill LaVoy (D., Monroe) defends his seat opposite Republican business owner Joseph Bellino, of Monroe, and Jeff Andring, the U.S. Taxpayers candidate from Adrian.
● 56th (western Monroe): Rep. Jason M. Sheppard (R., Lambertville) is seeking re-election opposite Democrat Tom Redmond, formerly of the county sheriff's office, and R. Al Bain, the U.S. Taxpayers candidate from Monroe.
● 57th (most of Lenawee): Republican Bronna Kahle, former director of the Adrian Senior Center, and Democrat Harvey Schmidt, former Tecumseh mayor and councilman, square off to replace term-limited Rep. Nancy Jenkins (R., Clayton).
Contact Jim Provance at: jprovance@theblade.com or 614-221-0496.