LOCAL CANDIDATES
Former Toledo mayor challenges veteran Lucas County commissioner
11/6/2016
Lucas County voters will decide Tuesday to either retain longtime Commissioner Pete Gerken or replace him with Mike Bell, a former Toledo mayor and fire chief.
Mr. Gerken, 64, of Toledo, who is seeking a fourth term, is focusing on countywide economic growth since the recession of 2008-2009, fostering partnerships with the private sector in development projects, and working on criminal justice reforms to reduce the local jail population.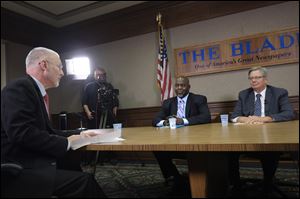 Blade Editorial Page Editor Keith Burris, left, introduces county commissioner candidates Mike Bell, a Republican, center, and Pete Gerken, a Democrat, during a televised debate at The Blade. The event was Oct. 20.
Mr. Bell, 61, a Republican who was mayor from 2010 to 2014, is attacking his opponent for voting to increase the county sales tax by 0.25 percentage points for a 7.25 percent overall tax.
He said the tax hike hinders economic development because consumers can go to nearby Wood County, where the tax drops to 6.75 percent.
He criticized his opponent for not offering a plan on how the extra tax money will be spent.
Mr. Gerken, a Democrat, said enacting the tax in 2015 kept the county from taking more than $10 million in reserves to balance the budget. He said the county was on a financial cliff.
He said the tax was needed to offset nearly $6 million in lost annual revenue from the state and a $10 million bill in additional yearly incarceration costs because the city of Toledo began charging individuals under state law rather than city ordinance.
Mr. Bell said his top priorities if he is elected commissioner are financial accountability, regional cooperation, and economic development.
● Also facing opposition in countywide elections is Lucas County Clerk of Courts Bernie Quilter, 57, a Democrat who faces Republican challenger Nickolas Berente, 57.
● Phillip Copeland, the Lucas County recorder, is being challenged by Republican Allison Seney, 30, of Sylvania. Mr. Copeland, 71, a Democrat, was elected to the office in 2012.
Wood County
In Wood County, residents will decide whether to retain two sitting county commissioners or replace them with new faces.
Democrat incumbent Joel Kuhlman is seeking his second full term, while Republican Craig LaHote, 57, who was appointed last year to fill out the term of Jim Carter who retired, is seeking election to his first full term.
Mr. Kuhlman, 35, of Bowling Green is challenged by Republican Ted Bowlus, 67, of Pemberville, who is a podiatrist and former president of the Wood County Health Board. Mr. LaHote, a former Perrysburg Township trustee, faces Democrat Edward Kolanko, 43, who is mayor of Walbridge.
● In the county treasurer race, Republican Jane Spoerl, 56, of Weston and Democrat Jason Hartigan, 32, of Perrysburg are on the ballot to replace Jill Engle, who is retiring.
● Wood County Sheriff Mark Wasylyshyn, 55, a Republican, is opposed by Ruth Babel-Smith, 56, a Bowling Green Democrat. Ms. Babel-Smith is a retired Wood County sheriff's lieutenant and law enforcement instructor.
Sandusky County
Sandusky County voters will decide whether to keep embattled and suspended Sheriff Kyle Overmyer or elect independents James Consolo or Chris Hilton.
Sheriff Overmyer, 42, has been suspended from office following indictments by a grand jury on multiple charges, including 43 felony counts.
A Republican, he was appointed sheriff in 2008 and elected in 2009 to his first term.
Mr. Consolo, 51, is a retired Sandusky County sheriff's detective. Mr. Hilton, 32, is a lieutenant with the Perkins Police Department.
Ottawa County
Ottawa County voters will choose between incumbent Commissioner Mark Stahl, 54, a Republican, and Democrat Chris Redfern, 52, a former county commissioner, state representative, and chairman of the Ohio Democratic Party.
Also in Ottawa County, Commissioner Jo Ellen Regal, 60, a Democrat, is opposed by Republican Mark Coppeler, 62, a Republican and Port Clinton business owner.
● Democrat Mark Mulligan, 64, now in his 20th year as Ottawa County prosecutor, is being challenged by Republican James VanEerten, 34, who is the current administrator of the Ottawa County Common Pleas Court.
● In Ottawa County's only other contested election, Nathan Daniels, 25, a Republican, is challenging incumbent county recorder Virginia Park, 75, who is a Democrat.
Fulton County
In Fulton County, incumbent Republican Jon Rupp, 37, faces off against Democrat Jeffrey Mazurowski, 47, for county commissioner.
Contact Mark Reiter at: markreiter@theblade.com or 419-724-6199.