REGIONAL LEVIES
Perrysburg Township pares back tax request to restore police service
Bowling Green voters to decide on 40% increase in support for parks
11/6/2016
An increase in the parks levy in Bowling Green and new police taxes in Perrysburg Township and Oak Harbor highlight tax proposals in northwest Ohio on Tuesday's ballot.
Perrysburg Township officials are hoping for a reversal of the 2014 defeat of a 3-mill levy request for police services. This time, they're asking for 2 mills over five years.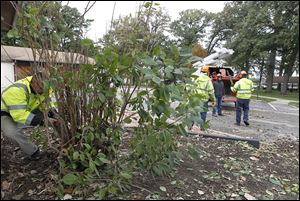 Bowling Green Parks and Recreation worker Grant Jones, left, trims a shrub next to Girl Scout Building, one of the polling places for Tuesday's election. The city's park district is asking voters for a significant increase in funding.
Trustee Bob Mack said the township had curtailed its police expenses by delaying new hires and deferring vehicle replacements, but it needs the new tax to sustain the police department.
"I'm confident that the voters see the value of the local township police department," Mr. Mack said.
Other "suburbanized" townships that don't have local police struggle to get lesser crimes, such as break-ins and shoplifting, addressed, and "those are the things that affect residences and businesses most of all," Mr. Mack said.
The levy would cost the owner of a $100,000 house about $70 per year and generate about $780,000 annually for the township police.
● The ballot in Ottawa County's Oak Harbor also includes a 2.87-mill, five-year levy for police services.
Parks
The Bowling Green parks levy would boost what residents pay for parks by about 40 percent, but officials say that's justified by 16 years without an increase while the city's parks system has grown.
Michael Aspacher, president of Bowling Green City Council, said the hike has gotten "very positive feedback" during public forums and he's unaware of any organized opposition to it.
Council voted unanimously to put a five-year, 2-mill levy on the ballot instead of the existing 1.4 mills — an increase that would boost local property owners' annual tax bills by $18.25 for each $100,000 in assessed value.
"It's been well documented that a healthy parks system contributes to the vitality of the community," Mr. Aspacher has said.
The existing levy accounts for 30 percent of Bowling Green's parks budget, and city officials have said upkeep has been deferred because of the current levy's inadequacy. The proposed increase would add about $270,000 to the parks department's budget.
● A parks levy in the Hancock County community of Arlington also is a 2-mill, five-year proposal.
● Metamora in Fulton County has a smaller parks request on its ballot: 0.5 mill for five years.
Other new taxes
● Among new taxes on area ballots is a three-year, 3.5-mill levy in the Mid-County Ambulance District, which includes the Wood County village of Portage and three neighboring townships.
● Wood County's Grand Rapids Township is asking for a 2.3-mill, five-year levy to pay for a new fire truck.
● Ottawa County's Danbury Township wants a one-year, 1.65-mill tax for improvements to the township hall.
● Ottawa County's Erie Township has a 2-mill, continuing fire levy on the ballot.
Major renewals
Several other prominent levies are renewals:
● Swanton and Wauseon voters will cast ballots on five-year renewals of their 1-mill library levies.
● The Wood County Committee on Aging and the Fulton County Alcohol, Drug Addiction, and Mental Health Services Board have both asked for five-year renewals of 0.7-mill levies.
● The Mental Health and Recovery Board of Erie and Ottawa Counties also has a 0.7-mill levy renewal up for approval, but that extension would be for 10 years.
Contact David Patch at: dpatch@theblade.com or 419-724-6094.