U.S. CONGRESS
Portman, Strickland wind down bitter race
11/6/2016
Candidates for U.S. Senate Ted Strickland, left, and U.S. Sen. Rob Portman shake hands after a Blade editorial meeting Oct. 13.
THE BLADE/JEREMY WADSWORTH
Buy This Image
Former Ohio Gov. Ted Strickland, a Democrat, and incumbent Republican U.S. Sen. Rob Portman have attacked each other on myriad issues, including the recession that began in 2008, trade deals, and the auto industry bailout.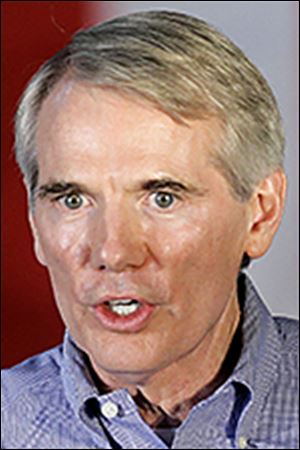 Portman
The campaign for Mr. Portman's seat on Tuesday has included four debates, including one at The Blade, millions raised, and bitter back-and-forth comments on the presidential race.
"This is a choice between Ted, who understands the struggles working families face and how he will fight for them ... and Senator Portman, who has spent his political career looking out for the rich, the well-connected, and Washington-insiders," said David Bergstein, a spokesman for the Strickland campaign.
Jon Stainbrook, Lucas County Republican Party chairman, said Mr. Portman has delivered for northwest Ohio.
"Since he has been in office, he has been here [in Toledo] for everyone from unions to taking care of the water," Mr. Stainbrook said. "He has delivered on everything he said he was going to do."
Strickland
Mr. Strickland, 75, is a former Ohio governor and former U.S. congressman. Mr. Portman, 60, a former U.S. trade ambassador, former budget director in the George W. Bush White House, and former congressman, is seeking his second term in the Senate.
Mr. Strickland has assailed his opponent for supporting Donald Trump, citing the celebrity businessman's comments against women, Muslims, and Mexicans. He hammered Mr. Portman for supporting Mr. Trump in the wake of release of a video showing Mr. Trump making vulgar and sexually aggressive comments about women.
Mr. Portman withdrew his endorsement of the Republican presidential nominee and even highlighted his work with President Obama in a recent round of radio ads that began airing late last month in Cleveland, Cincinnati, and Columbus.
Mr. Strickland also criticized Mr. Portman for denying climate change and not supporting the 2009 federal bailout that saved Chrysler and General Motors from a devastating bankruptcy.
He has repeatedly cited a 2009 news release from Mr. Portman calling the General Motors bankruptcy plan "a lousy deal for Ohio."
Mr. Portman was not in office then, and has said he would have supported the bailout, but with additional conditions to protect auto plants and dealerships in Ohio and retirees of Delphi auto parts plants who lost their pensions.
Mr. Portman has attacked Mr. Strickland, including during a live debate at the City Club of Cleveland last month, on the Affordable Care Act. The Republican said premiums have gone up 91 percent since the law was passed in 2010.
"The exchanges aren't working. Insurance companies are leaving. This is not working for Ohio families," Mr. Portman said. "We have to replace it ... with something that keeps the good parts."
During another debate last month, Mr. Portman repeatedly questioned Mr. Strickland's record as governor as well as his time in Congress.
"As governor, the loss of 350,000 jobs, taking Ohio to 48th in the country," he said. "Forty-seven other governors figured it out better than he did. After those 350,000 jobs left Ohio, he left Ohio. He went to Washington to cash in as a lobbyist."
To the attacks on his time as governor, Mr. Strickland has responded: "When he says I lost 350,000 jobs, I think he needs to acknowledge that we had a national recession and the national recession was not caused by the governor of Ohio."
Portman campaign spokes-man Michawn Rich said the Republican has passed more than 45 bills into law, including efforts to "level the playing field" on trade, combat Ohio's addiction epidemic, and fight human trafficking.
"The former governor has failed to paper over his awful record as governor when Ohio lost 350,000 jobs and ranked 48th in job creation," Ms. Rich said. "He has also failed to provide Ohio with his plans for the future, which is not surprising considering that when he was in Congress he failed to author a single bill that became law."

U.S. House races
U.S. congressional races in Ohio and Michigan include Michigan's 7th Congressional District, where U.S. Rep. Tim Walberg (R., Tipton) is running for re-election against Gretchen Driskell, a Democrat, and Libertarian Ken Proctor. Mr. Walberg was elected to Congress in 2006 and defeated two years later by state Senate Minority Leader Mark Schauer. He won the seat back from Mr. Schauer in 2010 and was re-elected in 2012 and 2014.
U.S. Rep. Marcy Kaptur (D., Toledo) has a Republican opponent, Donald Larson, of Lakewood, in Ohio's 9th Congressional District, which stretches from Lucas County to Cuyahoga County along the Lake Erie shoreline through Ottawa, Erie, and Lorain counties.
U.S. Rep. Bob Latta (R., Bowling Green), who represents the 5th District in the northwest corner of the state, including Williams, Henry, Defiance, Fulton, Paulding, Putnam, Hancock, and Wood counties, and parts of Ottawa and Lucas counties not in the 9th, faces Democrat James L. Neu, Jr., of Perrysburg.
U.S. Rep. Jim Jordan (R., Urbana), of the 4th District, faces Democratic opponent, retired kindergarten teacher Janet Garrett of Oberlin, Ohio. The 4th District includes Allen, Sandusky, and Seneca counties and the south half of Erie County.
Contact Ignazio Messina at: imessina@theblade.com or 419-724-6171 or on Twitter @IgnazioMessina.