Presidential candidates battle for Ohio
State that has gone with winner since 1964
11/6/2016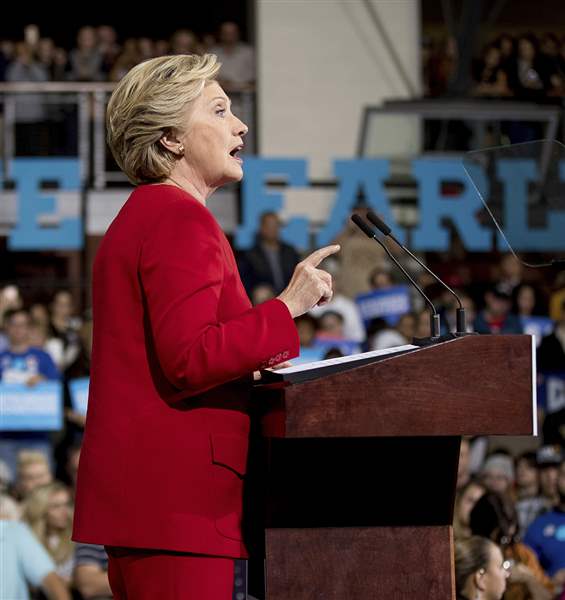 Hillary Clinton speaks at a rally at Kent State University. Though her campaign has held many events in northwest Ohio, she has been to the area just once.
ASSOCIATED PRESS
Hillary Clinton and Donald Trump, the Democratic and Republican candidates for president, have blanketed the state of Ohio in person and with squads of surrogates.
The messages they're sending voters focus on issues of character and the economy — but from starkly different angles.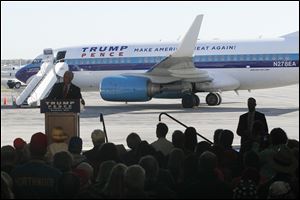 Indiana Gov. Mike Pence, Donald Trump's running mate, speaks on Oct. 25 at the Toledo Express Airport. The Republican team of Mr. Trump and Mr. Pence have made a total of six campaign stops in northwest Ohio.
Mr. Trump has stoked suspicions that Mrs. Clinton can't be trusted and encourages his supporters at his rallies to chant, "Lock her up."
Mrs. Clinton's campaigns have turned the spotlight back on him, calling him "unfit" to serve in the Oval Office and too dangerous to trust with the nuclear launch button.
Both candidates have attempted to tap into frustration in a region of manufacturing decline, rise of global trading powers, and the lingering effects of the 2008 Great Recession have left household incomes flat and hopes for the future uncertain.
Mr. Trump, 70, a New York businessman, TV personality, and celebrity who has never before held a public office, has his mega-rallies responding with thunderous applause when he attacks the free trade deals that he says have devastated Ohio's manufacturing economy.
"Ohio has lost one in four manufacturing jobs since NAFTA, which was signed by Bill Clinton and supported heavily by Hillary," Mr. Trump said at a rally in Springfield, Ohio, on Oct. 27.
His platform promises are to keep American manufacturers from moving overseas, to "rebuild" the military, build a wall between the United States and Mexico, and "make America great again."
At 69, Mrs. Clinton is a former first lady, former U.S. senator, and former secretary of state. Labeling her approach as "stronger together," under her, she vows, Washington would churn out legislation addressing pay equity for women, raising the minimum wage, helping college students avoid a crushing debt, and creating 1 million new jobs while rebuilding the nation's infrastructure.
"We've got to create more great jobs with rising incomes," she said.
"Trump represents the same rigged system that he claims he's going to change," Mrs. Clinton said Oct. 3 at her single campaign trip to Toledo.
James Ruvolo, a former Lucas County and Ohio Democratic chairman who maintains close ties to Democratic leaders, said Mrs. Clinton's campaign is doing the right things.
Whether the voters respond in the numbers necessary is the question.
"It's going to be very close. We are not as typical of the electorate as we used to be," Mr. Ruvolo said.
Ohio has a higher proportion of white voters, and lower proportions of college graduates, Hispanics, and Asians than, the nation as a whole.
"Hillary's best targets have been minority voters and college educated whites. That's why it's so close," Mr. Ruvolo said. Ohio's African-American population turned out in huge numbers for Mr. Obama in 2008 and 2012.
"If they turn out in numbers similar to 2012 she wins the state," Mr. Ruvolo said. He added Mr. Trump has built a campaign based on promises he can't deliver on.
Ohio's 18 electoral votes are eagerly sought after because of the state's unbroken record, starting with the 1964 election, of picking the winner.
A Trump victory in Ohio along with a Clinton victory nationwide would end Ohio's reign as the nation's pre-eminent bellwether state.
Mark Weaver, a Columbus lawyer and Republican political consultant, said Mr. Trump has struck political gold with his message attacking elites and even with his unconventional speaking style.
"He is going to do better in key Democratic counties than any Republican presidential candidate of the modern era," Mr. Weaver said, citing Mahoning, Trumbull, Lorain, and Lucas counties.
As some of those voters see it, "that guy's a real person warts and all — 'he's like me.' That doesn't mean they endorse the substance of what he said.
"He has stumbled into a message to working class folks that worked in a way that Democrats would be envious of," Mr. Weaver said. "He has a strong pull for working class voters who think the political elites have forgotten them and disrespected them."
Mr. Trump has run without the support of Ohio's two top elected Republicans. Ohio Gov. John Kasich, who ran unsuccessfully for the Republican nomination, refused to endorse the party's nominee. U.S. Sen. Rob Portman gave Mr. Trump a lukewarm endorsement and then revoked it after the release of a 2005 videotape of Mr. Trump making vulgar sexual remarks.
On the other hand, the Clinton campaign shows a hand-in-glove relationship with the Ohio Democratic Party and its allies in organized labor and minority communities. The Clinton campaign's more than 80 regional offices hum with volunteer and paid staff activity.
Mrs. Clinton herself appeared only once in northwest Ohio, but the Clinton office in Toledo has hosted a parade of surrogates including four U.S. senators, Vice President Joe Biden, actor Jeff Goldblum, and the cast of The West Wing.
And while Mr. Trump doesn't have the statewide organization Mrs. Clinton has, he and running mate Mike Pence have made a combined six campaign appearances in northwest Ohio.
Contact Tom Troy: tomtroy@theblade.com or 419-724-6058 or on Twitter @TomFTroy.