Toledo Zoo asks for less this year
Library seeks raise, citing low state funding
11/6/2016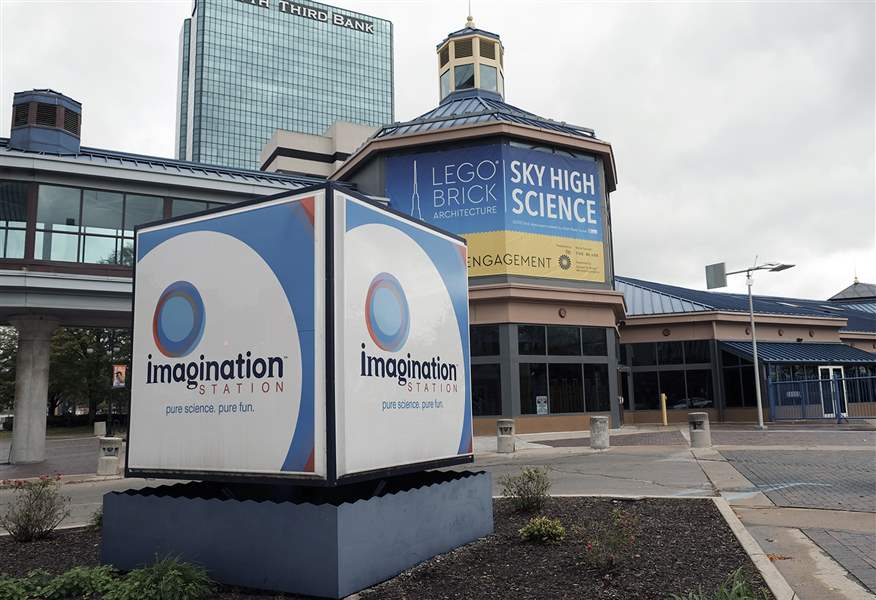 Imagination Station in downtown Toledo has one of a host of county tax issues on Tuesday's ballot. The science center is looking for a 5-year renewal of its 0.17-mill levy.
THE BLADE/JETTA FRASER
Buy This Image
Choosing which candidates will fill a slate of government offices isn't the only big decision facing area voters this fall.
Not including several school issues, a total of 14 levies for local governments and community organizations will be scattered among Lucas County ballots in the various tax districts. Five are countywide issues.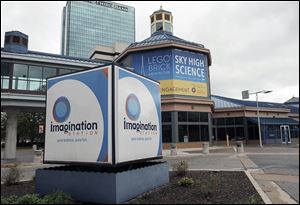 Imagination Station in downtown Toledo has one of a host of county tax issues on Tuesday's ballot. The science center is looking for a 5-year renewal of its 0.17-mill levy.
Only one among them is a reduction. The Toledo Zoo is seeking a renewal and reduction of its five-year operating levy, to begin in 2017.
"We've been really persistent in finding ways to diversify our revenue streams and being good financial stewards," said Jeff Sailer, zoo director. "We're at a point we can ask for less."
The zoo is decreasing its request from the current 0.85-mill property tax levy expiring at the end of this year to 0.75 mill. The owner of a $100,000 home would pay $22.97 per year for the renewed and lowered zoo levy, down from $26.03 now. The revenue is to be used to help pay for day-to-day expenses such as animal care, some staffing, education programs, utilities, and maintenance.
Mr. Sailer said the zoo has been "very blessed" over the years by broad voter support that transcends political party boundaries.
He said he hopes voters in this tumultuous election season take the time to decide each levy issue based on its individual merits.
"Our biggest concern is just the general mood of the election this year. There are a lot of items on the ballot," Mr. Sailer said. "It's just a matter of hoping people aren't so fed up with the general election process that they don't go through and look at and vote on each one."
Another prominent countywide issue belongs to the Toledo-Lucas County Public Library, which is asking for a renewal and increase of a five-year, 3.7-mill levy to begin in 2018. The request includes the existing 2.9-mill property tax measure that expires at the end of 2017, plus a 0.8-mill increase.
Jason Kucsma, deputy director, said the additional millage is to help the library recover from previous state funding cuts. "The funding from the state level is still at 1997 levels," he said.
The tax bill for the owner of a $100,000 home would rise by $29.31 from its current $87.50 for the 2.9-mill tax. The funds would be used for general operating expenses, including staff wages and benefits, infrastructure, and materials.
Mr. Kucsma said the library has evolved to keep up with the times and offer more than books and movies. It provides meeting space, programs, and services including computer classes, help with employment, and a delivery service for homebound residents.
"We are a community hub," Mr. Kucsma said. "There's a strong human element in everything we do."
Other countywide ballot measures are renewal requests from Lucas County Children Services, Lucas County Emergency Services, and Imagination Station.
The Toledo Area Regional Transit Authority also has a regional ballot measure to be decided by residents in its service areas in Lucas and Wood counties. The current 10-year, 1.5 mill levy expires in 2017, and TARTA is asking voters to renew the measure beginning in 2018 to be used for all purposes except for payments on bonds and debt.
Most prominent among district-specific issues is Toledo's request to renew its 0.75 percent temporary income tax. The 0.75 percent is projected to generate $56.9 million this year for the city's general fund. Toledo also collects a permanent 1.5 percent income tax on local payrolls. The 0.75 percent temporary tax has been collected for 30 years, and renewed at five-year intervals.
If the renewal fails, the city is expecting to make deep cuts in the police and fire departments. City documents show worst-case projections would mean laying off 260 police officers and 211 firefighters and closing eight fire stations.
Several municipalities have local levy renewals on the ballot: the village of Berkey, and Jerusalem, Monclova, Richfield, and Springfield townships.
Swanton Public Library also has five-year renewal of 1 mill for current expenses. The issue will be decided by voters in Swanton Local School District, which is on the Fulton-Lucas county line.
Providence Township is seeking a five-year additional levy of 3 mills for construction and repair of streets, roads, and bridges in the township.
Contact Alexandra Mester: amester@theblade.com, 419-724-6066, or on Twitter @AlexMesterBlade.