Kasich's hopes to be president likely dead
Experts: Failure to back winner costly
11/10/2016
COLUMBUS — Other than the Ohio Democratic Party, the biggest loser on election night may have been Republican Gov. John Kasich's presidential aspirations.
The second-term governor was seen as already laying the groundwork for a second bid for the GOP presidential nomination, spending the last few months traveling the country in support of Senate and House Republicans.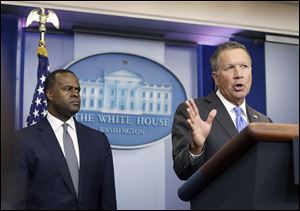 Ohio Gov. John Kasich speaks in Washington during September. He canceled a scheduled trip there for today after election results came in.
But a run in 2020 is now in doubt given that he might have to run against a sitting Republican president rather than the Democratic President Hillary Clinton he and most prognosticators expected.
"Practically speaking, this ends Governor Kasich's presidential aspirations unless something truly remarkable happens in a Trump administration, such as if he gets impeached or indicted," said Mark Caleb Smith, director of the Center for Political Studies at Cedarville University.
"... The earliest he could practically run would be 2024, and I don't think the timeline works out well for him," he said.
Mr. Kasich refused to endorse his party's nominee, writing in the name of U.S. Sen. John McCain (R., Ariz.) at the polls. Mr. Kasich had said Donald Trump would not win Ohio and had no path to the presidency.
He was proven wrong Tuesday by the New York billionaire's unofficial margin of victory of 9 points in battleground Ohio and his poll-defying success in methodically putting together, stone by stone, a path to national victory that took him through critical and sometimes unlikely states like Florida, Pennsylvania, North Carolina, and Wisconsin.
Mr. Kasich's only comment on the election results came in the form of a tweet: "The American people have spoken and it's time to come together. Congratulations President-elect @realDonaldTrump."
His office did not make him available for an interview.
Mr. Kasich had planned to give a speech today before the American Enterprise Institute in Washington — a speech predicated on an expected Trump loss — about where the GOP must go from there. That speech was canceled.
"All we're supposed to say is there are no events scheduled with John Kasich," said an AEI spokesman.
Kyle Kondik, communications director for the University of Virginia Center for Politics and author of The Bellwether: Why Ohio Picks the President, sees no Kasich opening.
"I don't think so-called Never Trump Republicans will have much of a seat at the table going forward," he said. "Also, Kasich's stance clearly had no impact on Ohio. ... I don't know if Trump is one to mend fences, so what practical effect this has on the state of Ohio is unclear."
John Green, director of the University of Akron's Ray C. Bliss Center for Politics, said the results may not preclude a Kasich run in 2020, but it certainly changed the politics of it.
"There will be a Republican in the White House," he said. "If Donald Trump is a popular president, it might be difficult for Kasich or anybody to run. On the other hand, if he's unpopular, there have been in the past challenges to incumbent presidents. … Maybe Trump won't run again."
Tom Zawistowski — president of the We the People Convention, executive director of the Portage County Tea Party, and a Trump supporter — said Mr. Kasich was in a "lose-lose position."
"If Trump won Ohio, it would prove [Mr. Kasich] did not have control of the Republican machine that he claimed to have, and his standing in that way would be rejected by voters," he said. "If Trump lost, Kasich would get blamed for that. It was [a] very stupid position, and he's blown his chance for [a] run in a future presidential election."
Contact Jim Provance at: jprovance@theblade.com or 614-221-0496.