Senator seeks details on infrastructure plan
Brown shares $1 trillion blueprint
2/28/2017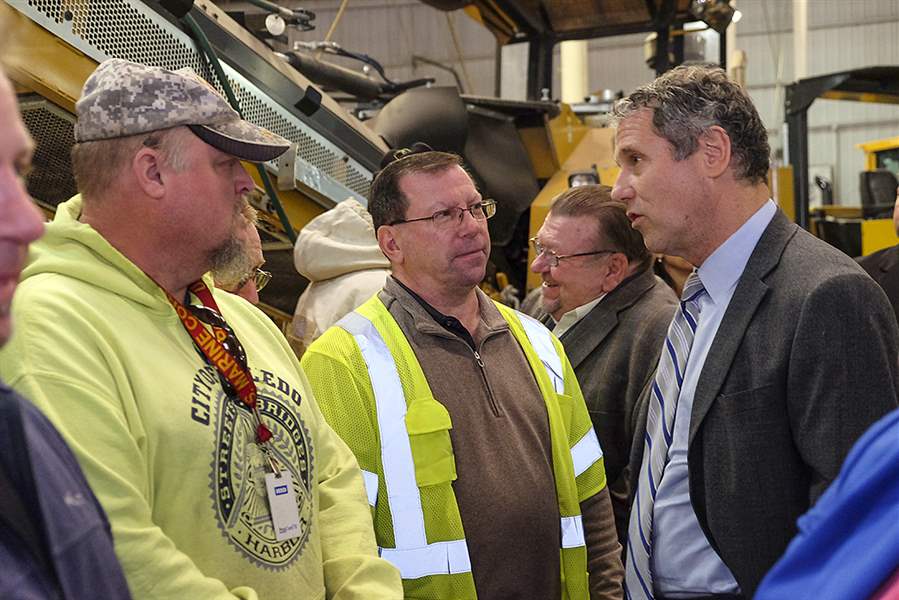 William Althouse, left, and Richard Hendrickson of Toledo's Division of Streets, Bridges & Harbor speak with U.S. Sen. Sherrod Brown (D., Ohio), who was in the city to promote Democratic senators' blueprint for $1 trillion spent on infrastructure over 10 years.
THE BLADE/JETTA FRASER
Buy This Image
With Toledo city workers, local business, and transportation officials on hand, U.S. Sen. Sherrod Brown (D., Ohio) on Monday called on President Trump to detail his $1 trillion infrastructure plan and to make sure it includes union wages and "buy-American" provisions.
"I look forward to working with my colleagues on both sides of the aisle and with President Trump to put Ohioans to work creating an infrastructure system that will be the envy of the world once again," Mr. Brown said. "We've still not seen anything come from the White House about what he's really going to do."
Senator Brown said he hopes the issue is one that the President addresses in a speech to Congress planned for later today.
PHOTO GALLERY: Sen. Sherrod Brown in Toledo
Also with him in Toledo was Mayor Paula Hicks-Hudson and top officials of the Toledo Regional Chamber of Commerce and the Toledo Metropolitan Area Council of Governments.
Mr. Brown said the country is falling behind in maintaining transportation, water, housing, broadband, and other community infrastructure.
The blueprint that Senator Brown and four other Senate Democrats have proposed calls for $1 trillion over 10 years with:
● $210 billion for road and bridge repairs, and $200 billion for projects of critical national significance.
● $110 billion to modernize water and sewer systems.
● $130 billion to replace and expand rail and bus systems.
● $100 billion to build affordable housing, eliminate blighted housing, remediate lead hazards.
● $75 billion to modernize schools.
Mr. Brown said Mr. Trump has surrounded himself with Wall Street advisers who do things differently than traditional ways in which federal infrastructure is done in the United States.
The senator has said he is concerned that the Trump Administration plans to use public-private partnerships that are designed to benefit corporate investors and that will not be adequately transparent.
Mayor Hicks-Hudson was challenged by a city employee as to whether Mr. Brown's infrastructure plan would lead to better wages for city workers. The mayor said it would because it would lead to more local spending that would result in higher income tax revenue.
"We need to help him get this bill passed because it helps all of us," Ms. Hicks-Hudson said. "In the city of Toledo, we have been operating on a shoestring."
David Gedeon, vice president for transportation of TMACOG, said the nation had a record-high level of 3.2 trillion vehicle miles traveled last year, while maintenance has fallen behind.
Locally, he said the TMACOG region — Lucas and Wood counties and three townships in southeast Michigan — needs nearly $250 million to address short-term repairs and reconstruction on federal aid-eligible roadways and bridges.
The cost to fix local roadways that are not federal aid-eligible is close to $1 billion for the city of Toledo alone, he said.
Some 65 city workers in the Division of Streets, Bridges & Harbor were called in from their job assignments to attend the event held inside the city's public service garage at 1189 W. Central Ave. Heavy city equipment, such as loaders and earthmovers, appeared to have been lined up to help the event. A city official said those who attended were expected to use lunch and break time.
Mayor Hicks-Hudson said city workers' attendance was justified because of the importance of getting Toledo's deteriorating infrastructure addressed. She said the event was not political, and she said she did not ask if the city employees were on the clock.
"This is not a political event. It is an announcement of our representative in Congress for funding that will help us," Mayor Hicks-Hudson said.
Senator Brown was not announcing actual funding, but rather his recommendation for how the President should structure an infrastructure spending plan.
In a guest column published in The Blade two days before the Nov. 8 election, Republican vice presidential candidate Mike Pence called for a "$1 trillion revenue-neutral plan [that] will create thousands of jobs in construction, steel, manufacturing, and other sectors to build the transportation, water, telecommunications, and energy infrastructures we need to spur economic development."
While in Toledo, Mr. Brown attended a private campaign fund-raising event for him at the Toledo Club. Mr. Brown is seeking election to a third term in 2018. Ohio Republican state Treasurer Josh Mandel plans to challenge him.
Contact Tom Troy: tomtroy@theblade.com or 419-724-6058 or on Twitter @TomFTroy.