North Korea rejects diplomacy with U.S. for now
10/16/2017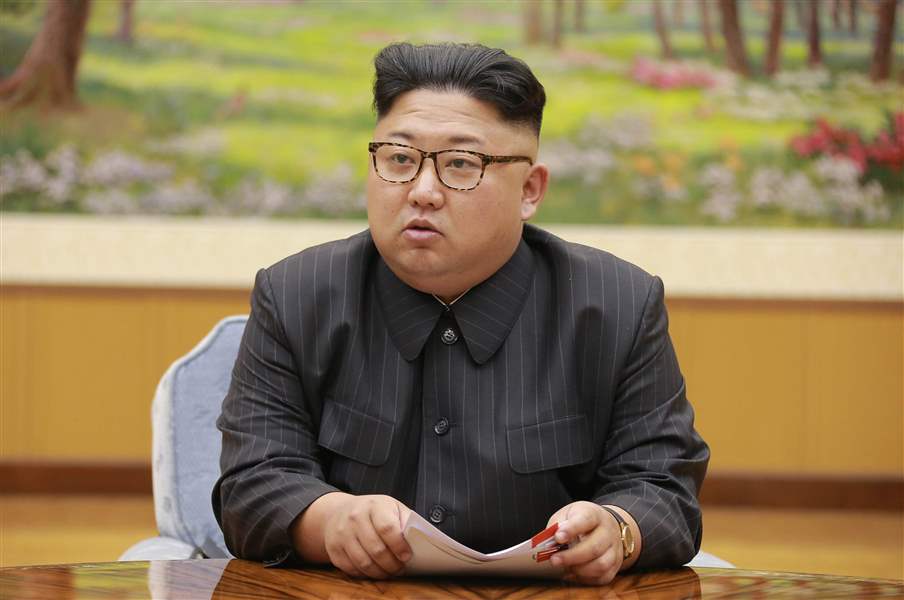 North Korea's leader Kim Jong Un holds a meeting of the ruling party's presidium in September.
Korean Central News Agency/Korea News Service via AP
A North Korean official reaffirmed Pyongyang's commitment to developing a long-range intercontinental ballistic missile capable of reaching "all the way to the East coast of the mainland US," on Monday, telling CNN that the rogue nation is currently not interested in diplomacy with the US until it achieves that goal.
North Korea is not ruling out diplomacy, but "before we can engage in diplomacy with the Trump administration, we want to send a clear message that the DPRK has a reliable defensive and offensive capability to counter any aggression from the United States," the official said.
The comments offer a sobering challenge to the US and the Trump administration which has offered mixed messages regarding diplomatic efforts with North Korea.
White House chief of staff John Kelly said last week that Americans should be concerned about North Korea's ability to reach the United States with an intercontinental ballistic missile, cryptically telling reporters that if the threat grows "beyond where it is today, well, let's hope that diplomacy works."
Significantly, Kelly noted that Pyongyang "is developing a pretty good nuclear re-entry vehicle."
For a missile to successfully strike a target it would have to re-enter the earth's atmosphere without breaking up.
Kelly's comments seem to indicate that the US believes that North Korea is close to achieving what would be a key breakthrough for their missile program.
The North Korean official told CNN that two additional steps are needed to achieve its goal of a reliable ICBM.
One step is an above-ground nuclear detonation, like the kind North Korean Foreign Minister Ri Yong Ho threatened at the United Nations last month when he suggested leader Kim Jong Un was considering detonating "an unprecedented scale hydrogen bomb" over the Pacific after Trump threatened to "totally destroy" North Korea.
The other step is the "testing of a long-range ICBM capable of reaching Guam - and even further," the official said.
Both steps are necessary for the DPRK to send that "clear message" to the Trump administration that it possesses an effective nuclear deterrent, the official said.
The official added that one or both of these tests could possibly be timed to coincide with the US-South Korea joint naval drills, which began Monday and will last for ten days, or could possibly coincide with Trump's visit to Asia next month.
Pyongyang claims those military drills are rehearsals for a US-led invasion while the US says they are defensive in nature.
On Sunday, US Secretary of State Rex Tillerson said his diplomatic efforts will continue as long as they possibly can despite the saber-rattling on both sides of the Pacific.
"Those diplomatic efforts will continue until the first bomb drops," Tillerson said on CNN's "State of the Union."