Steinem stars at fund-raiser for Fedor's state senate campaign
3/7/2018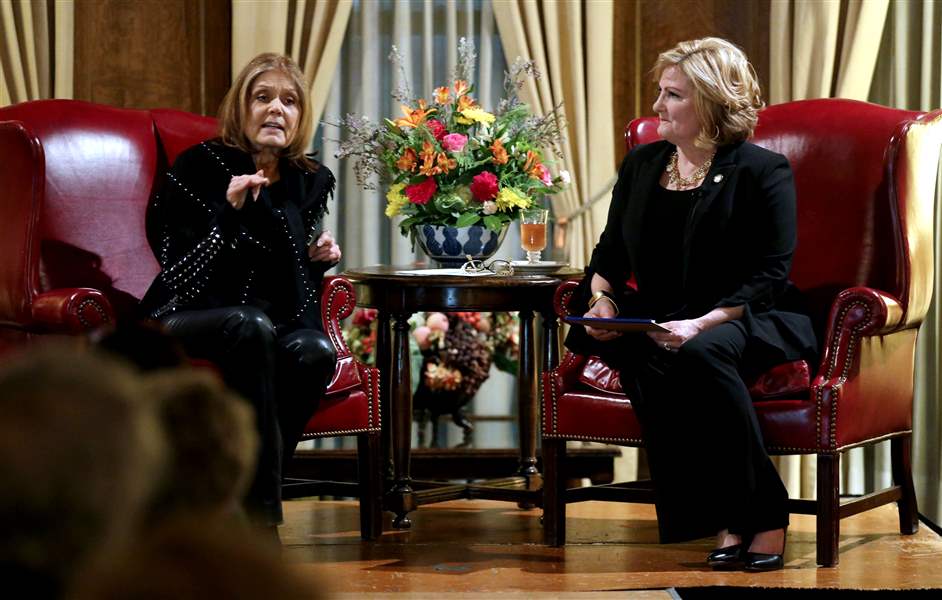 Gloria Steinem, left, and State Rep. Teresa Fedor take the stage in front of supporters to kick off Fedor's state senate campaign at the Toledo Club.
THE BLADE/LORI KING
Buy This Image
Sitting in red leather chairs on an elevated platform, Toledo's native daughter Gloria Steinem and state Rep. Teresa Fedor (D., Toledo) talked face-to-face Wednesday about reproductive rights, sexual harassment and discrimination, and the #MeToo movement.
Ms. Steinem, who was the star of a fund-raiser to kick off Ms. Fedor's state senate campaign, credited women involved in the first sex discrimination cases, including attorney Catharine MacKinnon, who argued sexual harassment was discrimination, and Anita Hill, for making it possible for changes that are occurring today.
Gloria Steinem, left, and State Rep. Teresa Fedor take the stage in front of supporters to kick off Fedor's state senate campaign at the Toledo Club.
She credited these women with the pioneering efforts to infiltrate and change the patriarchy of male dominance.
"Women are for the first time in a general way being believed," she told an audience of about 200 in the Toledo Club. "The very definition of patriarchy is controlling reproduction, and since women are the means of reproduction, it means controlling the body of women. From that flows this whole idea of masculine power and feminine submission."
Ms. Steinem, 83, who spent the first 17 years of her life in Toledo and attended Waite High School, met Ms. Fedor about two years ago during Ms. Steinem's visit to Toledo to talk about her book My Life on The Road for an Authors! Authors! series, sponsored by Toledo Lucas County Public Library and The Blade.
VIDEO: Gloria Steinem at fund-raiser for Teresa Fedor
Ms. Fedor said she asked Ms. Steinem to help more women get elected to public office. They have been friends ever since.
"I am very honored and humbled that she is here and she wants to help me continue my efforts to be an elected official in serving my district," Ms. Fedor said. "I am happy that she is here to help me kick off my campaign."
Ms. Fedor is the 45th House District representative, which includes North and East Toledo and parts of Washington and Sylvania townships. She is term-limited from running for the office again and seeking to return to the Senate seat she held from 2002 to 2010.
She is being challenged by State Rep. Michael Ashford, who also is term limited, in the May 8 primary. The incumbent, Democrat Edna Brown, is term-limited and is not running for any other office.
Nick Komives, Ms. Fedor's campaign manager, said 150 tickets were sold for the event and an additional 40 people were expected to attend.
Ms. Steinem said she feels Ms. Fedor is a legislator who listens to her constituents and understands issues that are important to them.
"She is not afraid to take up issues that are difficult like sex trafficking or reproductive freedom as a human right. To speak up in a place in which she is an exception is not always easy to do. She is bringing majority concerns to the place where they need to be heard."
Ms. Steinem told the audience that the decision to terminate a pregnancy is a fundamental right for women because it is about democracy and the ability to control their own bodies.
"It is a human right like freedom of speech," she said. "If we don't have that, if we don't control our own physical selves, then we are obviously are not living in a democracy."
Contact Mark Reiter at: markreiter@theblade.com or 419-724-6199