Portman leads Senate hearing on unaccompanied minors at border
8/16/2018
A report by a bipartisan Senate panel headed by Ohio Sen. Rob Portman found the government has made few improvements to protect unaccompanied minors who enter the U.S. illegally from abuse and to ensure they appear at immigration court proceedings once they're placed with sponsors.
Mr. Portman, the Republican chairman of the Senate's Committee on Homeland Security investigations subcommittee, led a hearing Thursday on the failings described in the report, the result of a more than two-year investigation into issues spanning the Obama and Trump administrations. Since 2012, more than 200,000 children have entered the country illegally without parents or guardians, the report shows.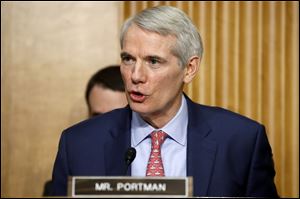 Sen. Rob Portman
"This is not a partisan issue and, let's face it, there's plenty of blame to go around," Mr. Portman said. "The specific, tragic occurrence of children being placed with human traffickers that initiated this subcommittee's investigation happened under the Obama administration. But this is a systemic problem that has continued under the Trump administration."
The report states that not only have Health and Human Services and Homeland Security not taken sufficient responsibility for the safety of unaccompanied minors, "no agency claims any legal responsibility for the children's well being once HHS places them with sponsors."
In a joint statement, the two agencies and the Department of Justice blamed congressional inaction and faulted lawmakers for falsely saying President Trump has worsened the problem. The report "demonstrates fundamental misunderstandings of law and policy," the statement read.
The subcommittee's investigation started in 2015 after Health and Human Services placed eight children with members of a human-trafficking ring who forced them into labor at a Marion, Ohio, egg farm. The children lived in squalor and worked for up to 12 hours a day while they and their families were threatened with violence.
The subcommittee investigated Health and Human Services' process for screening sponsors and found it wasn't conducting sufficient background checks, among other shortcomings.
Many of the problems outlined in the new report began under President Obama and have continued under President Trump. Over the past four months, however, "the Trump administration took steps that exacerbated these problems. Although the report does not address the ongoing family separation crisis in detail, it is important to note the strains that crisis currently is placing on the UAC program," the report stated.
Attorney General Jeff Sessions' "zero tolerance" immigration policy was in place for 10 weeks, during which more than 2,500 children were separated from their parents and placed in Health and Human Services custody. Since June, 1,569 children have been reunited with their families held by Immigration and Customs Enforcement and 423 were discharged.
The report notes, 559 children have yet to go back to their families.
In April, the Department of Health and Human Services testified to the Senate panel that, during a three-month period in 2017, it had lost track of 1,475 children and 28 had run away.
"We need an update on those children today," Mr. Portman said in his opening remarks.
The investigation also found the U.S. Department of Justice doesn't have enough immigration court judges to hear the backlog of more than 80,000 cases involving unaccompanied minors — 8,000 of which have been pending for more than three years.
Once their date arrives, 53 percent never show up for court — a 12 percent increase from 2012, Mr. Portman said.
"We have a serious problem on our hands," he said. "These children are at risk for trafficking and abuse. When these children do not appear for their hearings, they lose their chance to argue for immigration relief and many remain in this country illegally, which undermines our nation's immigration laws."
"These children come to our country primarily from Guatemala, Honduras, and El Salvador to escape extreme poverty and unspeakable violence at home," ranking subcommittee member Tom Carper (D., Del.) said. "In too many cases as this subcommittee has repeatedly highlighted, we're failing in our responsibility to protect and properly care for them."
The Blade's News services contributed to this report.
Contact Liz Skalka at lskalka@theblade.com, 419-724-6199, or on Twitter @lizskalka.